About O'BJ, Bill and Barbara J. Andrews
Meet Barbara J. Andrews, AKC Hall of Fame Breeder and developer of the Register Of Merit (ROM) System used by many National Breed clubs.
Sharing our background isn't about ego (I've been told I have more than enough of that) it is about how important quality is to you. If you're willing to put up with this non-conventional website, it's a good indication you are determined to do it right. That's important whether you're thinking about a Toy Fox Terrier as a family pet or a show dog.
Thanks to the internet, we no longer need to spend hours trying to figure each other out. You can click out right now or learn what makes a healthy, intellectually and physically superior Toy Fox Terrier.
Here's where the webmaster takes over with our "pedigree".
Bill and Barbara "BJ" Andrews married in 1956, had three gifted children, performance horses, and Dobermans (Damasyn and Arthal bloodlines). In 1966 they became Charter Members of the American Rottweiler Club and BJ owner handled their foundation bitch to her AKC championship with three 5-point majors. In 1968, their Ch. Asgard Anna vom Kongslien, CD became the #1 Dam as a result of intensive breed genetics research through the AKC Gazette and club records. Obviously there was no internet so she kept progeny records on 3x5 index cards.
She introduced the official Register Of Merit system in the Rottweiler Handbooks, published in 1968. BJ's Register Of Merit (ROM) and ROMP (producer of Register Of Merit progeny) system is currently used by many other national breed clubs.
Their first Akitas were in 1972, carefully selected 3/4 sisters purchased from Bob Campbell of Okii Yubi fame. The Andrews waited over a year for a compatible male puppy from Bob. That carefully selected puppy became Ch. Okii Yubi's Sachmo Of Makoto, ROMPX. He was owner-handled to top breed and Group rankings for four consecutive years and though never at public stud, Sachmo became the top sire of All Working Breeds. (Nearly four decades later, the fabulous Siberian "Cinnar" finally bumped Sachmo to 2nd place.) Their two foundation bitches (Ch. Ko-Go and Ch. Hatter) are still tied as #1 Akita dam of all Time. Bill and BJ are pictured with one of their Champion Akita females and a Chinese Foo Dog, another new breed they pioneered in America.
The Andrews still hold most of the All-Time Records in the extremely competitive Akita breed. That includes over half of the All Time Top Register Of Merit Producers. Akitas O'BJ is the foundation bloodline for top breeders in North and South America, Europe and Australia.
The Andrews fell in love with Bull Terriers in 1980 and subsequently imported a total of 13 dogs, among them, America's first English Champion Miniature Bull Terrier, plus the first Junior Warrant Winner. Barbara J. Andrews founded the national MBTCA and as President, moved the Mini-Bull to AKC recognition. Having authored the first book on the Akita breed, the massive World Of The Akita published by TFH, she was asked to write the Miniature Bull Terrier. It too was a landmark book and so, writing exclusivly for the world's largest publisher of animal books, Mrs. Andrews authored a total of 8 breed books.
She and husband Bill set genetic and all-time AKC records in three breeds. Akitas O'BJ are still known world-wide for powerful breed type and correct temperament. Four of the nation's top winning Mini-Bulls represent O'BJ genetics. The Andrews have always insisted on "brains before beauty" and in Toy Fox Terriers they achieved the perfect combination!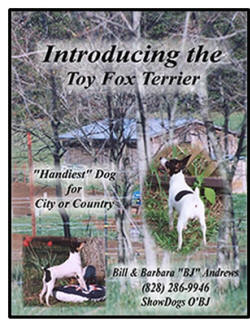 In the late 90s, they became interested in a Toy breed and were mentored in Chihuahuas by Dan Greenwald. In 2001 Bill and Dan campaigned Ch. Rialto to become the #2 All Time Top Smooth Chihuahua in breed history. By 2002, two homebred O'BJ Group and Specialty winning Chihuahuas were Nationally ranked. BJ authored The Chihuahua for TFH Publications - but then they stumbled over a new AKC breed...
Toy Fox Terriers fit them like a glove. The O'BJ breeding formula, renowned for a consistently high percentage of champions-per-litter, was applied to a small Toy Fox Terrier breeding program. As always, Bill and BJ owner-handled their dogs, setting new show ring records.
Having served as officer or committee chair for six National AKC Breed Clubs, Barbara agreed to serve one term as VP for the American Toy Fox Terrier Club.
Bill Andrews was taken by cancer in 2005 but not before his wisdom and judgement had formed their breeding plans. BJ says "Toy Fox Terriers O'BJ will never be known world-wide like our Akitas but I feel like Bill and I gave back nearly as much as the dogs gave to us."
Copyright © ToyFoxTerriersOBJ.com 20021521612
Barbara Andrews may be reached at (828) 286-9945 (12 to 8 PM EST) in the Foothills of North Carolina or email BJ
Copyright © O'BJ 2002 Barbara J. Andrews. All rights reserved. Except for brief reference quotations with source provided, no portions thereof may be stored or reprinted in any form, electronic or otherwise, without prior express written consent of Barbara J. Andrews