Lucky Dog & Lollypop
The O'BJ Gene Bank received a significant deposit in 2004. Carefully sought Genetics from old UKC bloodlines were the foundation for a parallel outcross which produced a generation of exceptional Toy Fox Terrier puppies.
O'BJ Strike A Match Phoenix, aka Zippo was our second of three Foundation bitches. "Zippo" is shown below left. When we found Zippo, we bought her on the spot! Zippo was the daughter of one of the all time top UKC sires, Ch. Bobby McGee, who was himself the son of the All Time #1 UKC dam Precious Contender. Zippo carried old Wilken's lines on her bottom side and when we went to see her at 5 months, we couldn't believe our good fortune.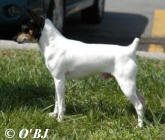 The question was how to breed Zippo "out" a little without diminishing what she was? Her mate had to have the same solid bone, substance, big terrier teeth and perfect mouth.
Zippo had taken a bad fall onto our ceramic tile floor and injured her leg so we couldn't show her but we wanted to give her the best genetic match for another cornerstone of the O'BJ foundation.
In 2004, we found the answer and out-crossed Zippo (left) to Ch. Moonlight's Magic Mozart (right) a multi-Group placing, nationally top-ranked dog. We had been watching " Mojo", admiring his sound movement, short back, solid bone, and clean head. At a Regional Specialty weekend (which was a clean sweep for Hugely) we asked to see his mouth. It was the only thing left to consider in order to "set" Zippo's perfect, full dentition and terrier-mouth which was so lacking in the breed. His bite was perfect, with big strong terrier-teeth. So we made arrangements, drove to Nashville in a terrible storm, made one breeding and headed back to NC.
LollyPop O'BJ and Lucky Dog O'BJ (on right) are littermates from that litter born January 2005. By then Bill's health was failing and going to shows was iffy so we sold Lolly on co-ownership to a first-time Toy Fox Terrier owner and she quickly became Ch. Lollipop O'BJ, novice-owner handled to her AKC title.
Ch. LollyPop won easily, going Best Of Breed over Champions. This is the only photo I received - her first major, as a gangly puppy beating a ring full of adults. Diane wanted a male puppy to show and breed with Lolly so I sold her the Hugely and Garbo son I was keeping. Mostly Handsome O'BJ was bred to Ch. Lolly but right after that, needing only a major to finish, he was killed in a tragic accident.
In the meantime Diane's cancer came back so I took back the mother (LollyPop) and retired her with a retired couple. I kept two of her puppies. One became National Specialty AOM winner Ch. Boo, co-owned with Linn Vandiver. I kept the bigger pup, named her LolliPup and co-owned her with an AKC judge. Linda showed her to a major short of her AKC title when she was forced to move closer to her elderly parents. Lolli-Pup came back to me. (see LolliPup grown up and her litter.)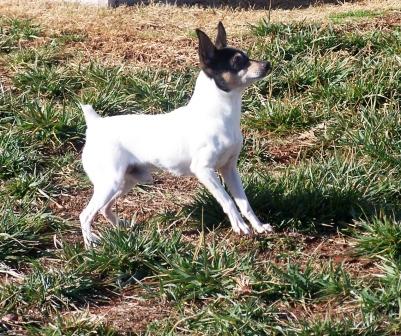 Lucky Dog O'BJ wasn't shown because by then Bill's cancer had advanced and we could no long travel. Wanting Lucky Dog to have his Champion title, I sold him to what I thought was a good show home.
It turned out to be a really bad home, but Lucky Dog lived up to his name and luckily, he was rescued by Marilee Thorsby so his powerful genes were not entirely lost.
I've been asked why I ever let Lucky Dog go. Well, he had three problems. He was in a very small breeding program, he produced so well that I kept several of his offspring, and with such a small kennel, I had nothing to breed to him.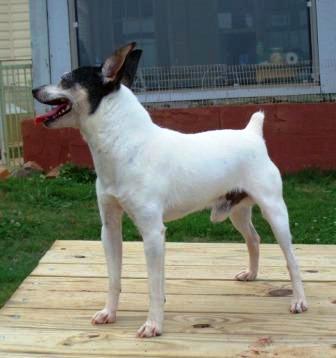 Lucky Dog is super sweet and easy going. He gets along great with Hugely and loves playing with puppies, tolerating their needle-sharp teeth. We called him Uncle Dog because like the Uncle in the wolf pack, he loves to baby-sit little puppies.
He is not only a great physical example of the Toy Fox Terrier, he passed on those big strong terrier-teeth that we went after by breeding Zippo to Mojo. Lucky Dog has an especially good tight-fitting, smooth, velvety coat. He throws his short back, cobby body, low set hocks, high set tail, his faultless front, and good angles.
Even as a senior citizen (shown here May 2011), he's the epitome of hard to get, short-back, up-on-leg, Smooth Fox Terrier profile. I like these candid photos because like Hugely, Lucky Dog shows the correct male Toy Fox Terrier proportion.
Click here If you missed price and policy information
Barbara Andrews may be reached at (828) 286-9945 (12 to 8 PM EST) in the Foothills of North Carolina or email BJ
Copyright © O'BJ 2002 Barbara J. Andrews. All rights reserved. Except for brief reference quotations with source provided, no portions thereof may be stored or reprinted in any form, electronic or otherwise, without prior express written consent of Barbara J. Andrews