Purple Heart O'BJ's Litter by U-Gene O'BJ
Perfect Puppies For Picky People!
Heart is a Glimmer (left) daughter. I love this candid shot of Glimmer taken when we had her baby (Heart) out in the grass. In this photo, she's just sitting there smiling proudly, watching Denise take pictures of Heart.
Heart's sire is Barbary Johnny Cash O'BJ, shown at right. He is 5.25 pounds of solid muscle and Toy Fox Terrier personality. You can see how small he is in proportion to my foot! Johnny passes his handy size and superior balance on to his puppies.
You can see why we named her Heart. Her distinctive marking says it all.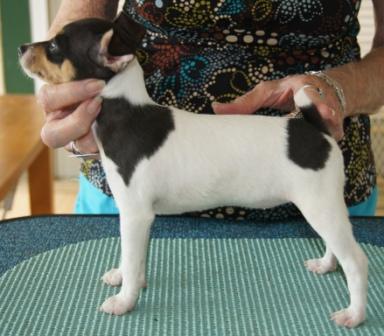 She's precocious and brave ("showing off" on the table at 9 weeks) and since it was a "P" litter, we named her Purple Heart O'BJ.
Heart was bred to U-Gene O'BJ who is the ideal masculine size, strong bones, super sound, highly intellegent, and an excellent guard dog.
Lots more info about him and his sire and dam on his page in the Gene Bank. Just click his name above.
Now you know how we create exceptional Toy Fox Terrier litters. If you are a breeder, a puppy from this litter can put you on sound genetic footing for the most important features of Toy Fox Terrier type; headpiece, ideal size, soundness and balance topped off with outstanding TFT personalities.
If you are a discriminating pet owner all of those vital "show" characteristics insure a healthy, highly intelligent, lovingly socialized Best Friend for life.
She is my heart-dog, my TV lap dog who grudgingly shares that space... She has given me a beautiful litter from which I'm keeping the female, a Hugely granddaughter...
Heart's puppies were born October 9th, 2018! Save this page for updated puppy pics. At this moment I have one female available in time for Christmas, $1800, full AKC registration and complete Care Package. $200 deposit will hold her!
Call me 828-286-9945, 11 a.m. until 7 p.m. EST.
3 days old, all is well!

(L to R - boy, boy, girl, boy)

28 days old interesting way of sleeping

(three boys piled on left, girl on right!
| | |
| --- | --- |
| 30 day males; Blackface & HeadBlaze | 30 day old NoseBlaze boy & girl |
| | |
| --- | --- |
| 30 day males; Blackface & HeadBlaze | 30 day old NoseBlaze boy & girl |
6 week old fronts
| | | | |
| --- | --- | --- | --- |
| Blackface male | HeadBlaze male | NoseBlaze male | Female |
6 week old backs
| | | | |
| --- | --- | --- | --- |
| Blackface male | HeadBlaze male | NoseBlaze male | Female |
7 week old puppies learning how to stack - the little girl wonders where the flash came from
| | | | |
| --- | --- | --- | --- |
| Blackface male - Reserved | HeadBlaze male - Reserved | NoseBlaze male - Reserved | Female - Available |
7 week old fronts - NoseBlaze thought this was alot of work and decided to sit down
| | | | |
| --- | --- | --- | --- |
| Blackface male - Reserved | HeadBlaze male - Reserved | NoseBlaze male - Reserved | Female - Available |
Copyright © ToyFoxTerriersOBJ.com 1810 http://www.toyfoxterriersobj.com/Puppies/Heart/1810-U-Gene-3M-1F.asp
Click here If you missed price and policy information
Barbara Andrews may be reached at (828) 286-9945 (12 to 8 PM EST) in the Foothills of North Carolina or email BJ
Copyright © O'BJ 2002 Barbara J. Andrews. All rights reserved. Except for brief reference quotations with source provided, no portions thereof may be stored or reprinted in any form, electronic or otherwise, without prior express written consent of Barbara J. Andrews