Sucha Girl O'BJ Litter Is Here!
Perfect Puppies For Picky People!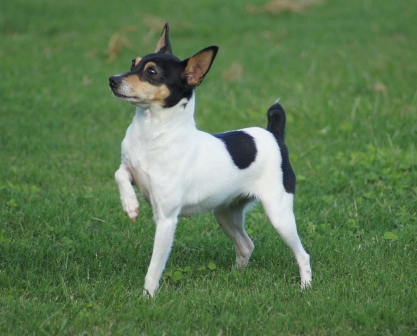 Meet Sucha! She's a tiny little Toy Fox Terrier, (6 lbs, 1 oz) but athletic like her Champion dam. Sucha is perfectly complimented by Hugely. He's a perfect match for her, structurally and genetically. Both are super-sound and perfectly exemplify the Toy Fox Terrier Breed Standard and everything we look for in an outstanding TFT. Click for more photos of Sucha Girl O'BJ.
Sucha's mother Champion Sally Jo (5 lbs, 7 oz) was a lucky purchase through a good friend who is a UKC judge. Sally Jo was a wonderful mother that gave me two lovely litters, passing on her perfectly angulated rear quarters with strong joints and well let down hocks. Sally Jo also gave Sucha her ideal tail set, always up as she excudes confidence and that "look at me" attitude that made her mom such an easy show ring winner.
Sucha's sire is Barbary Johnny Cash O'BJ I was soooo fortunate to have been able to acquire Johnny from the undisputed top show breeder, Denise Monette in CA. Johnny gave me perfect size and terrier type in a tuck-in-your-arm package which we've doubled up on in this gene package.
Sucha Girl has a lovely headpiece with perfect ears set high on the head and always alert. Her beautiful dark eyes sparkle with lively intelligence. Actually I kept her because of her keen mind, called her "Sucha Brain" but Hal said that sounded corny...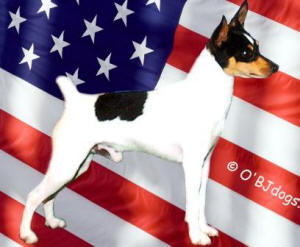 Sucha is bred to Ch. Hugely who is a Toy Fox Terrier legend and has his very own page. Click here to see Hugely Handsome in his younger days when he was the All Time #1 Top Winning Toy Fox Terrier. He stamps his puppies with his extraordinary soundness, showmanship, and upstanding balance.
We know this litter will set vital breed qualities which are increasingly diminished in the show rings. The TFT must be preserved as a perfect balance of toy dog size and intelligence with terrier structure, vigor, and hardiness. Sucha and Hugely will do just that!
If you are a breeder, a puppy from this litter can put you on sound genetic footing for the most important features of Toy Fox Terrier type. If you want a top quality pet and personal companion, call me to reserve your "Sucha-puppy".
Born October 26th, 2017 these beautiful babies are 5 days old - "three spot" girl on left, little boy in the middle and "IMA" girl on right.
Puppies are now 14 days old!
| | |
| --- | --- |
| Female fronts "Ima" and "three spot" | 14 days male front |
| | |
| --- | --- |
| Female backs "Ima" and "three spot" | 14 days old male back |
Puppies are now 35 days old!
| | | |
| --- | --- | --- |
| Female front "Ima" | Female front "three spot" | 35 day old male front |
| | | |
| --- | --- | --- |
| Female side "Ima" | Female side "three spot" | 35 day old male side |
| | | |
| --- | --- | --- |
| Female back "Ima" | Female back "three spot" | 35 day old male back |
Toy Fox Terrier puppies now 7 weeks (53 days) old! Bright and beautiful!
three spot 2#12 oz - "Ima" 2#7oz, and little boy 2#8oz
| | | |
| --- | --- | --- |
| Female "Ima" | Female "three spot" | Little boy |
| | | |
| --- | --- | --- |
| Female "Ima" | Female "three spot" | 53 day old male |
| | | |
| --- | --- | --- |
| Female "Ima" | Female "three spot" | 53 day old male |
This was another 5 star litter by Sucha! I kept "Ima". I know how hard it is for you to pick because I admire them all day, every day and I had a hard time picking! I'll do my best to price after Christmas when we take the last litter photos.
Sucha's puppies 9 weeks old! Woken up for their last photo shoot.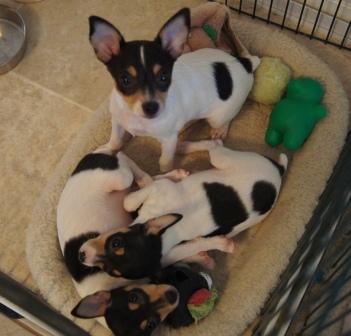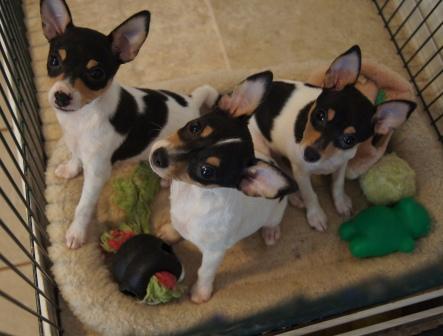 We tried to get them while they were all asleep, forgetting these are Toy Fox Terriers...
They can hear me in their sleep <smile> Photo #1 3 spot F, Male, "Ima" F,
2nd photo, L to R is "Ima" (not for sale), the boy in the middle, and 3 spot on right.
The Male and 3 Spot girl are $1500 with full AKC registrations
Go back to price and policy information and the rest of the site.
Barbara Andrews may be reached at (828) 286-9945 (12 to 8 PM EST) in the Foothills of North Carolina or email BJ
Copyright © O'BJ 2002 Barbara J. Andrews. All rights reserved. Except for brief reference quotations with source provided, no portions thereof may be stored or reprinted in any form, electronic or otherwise, without prior express written consent of Barbara J. Andrews