Sucha Girl O'BJ Puppies Sired by U-Gene O'BJ
Sucha is brainy and tiny like her genius IQ dam and her puppies, due June 20, are sired by my exceptional Hugely son, U-Gene O'BJ, a genetic powerhouse!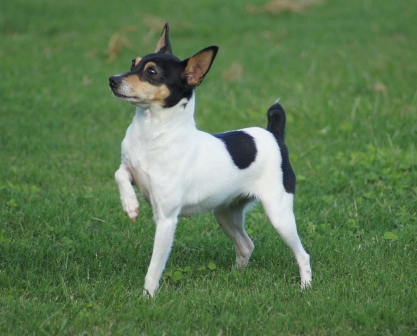 Meet Sucha! She's an ideal female Toy Fox Terrier, small (6 lbs, 2 oz) but athletic like her Champion dam. Sucha is perfectly complimented by my Hugely son U-Gene. She has proven herself with Rolex and now I can't wait to see how she does with U-Gene O'BJ. He is a great match for her, structurally and genetically. Both are super-sound and perfectly exemplify the UKC and AKC Breed Standard. He's not as brainy as she is but then he's a boy... They are both everything we look for in an outstanding TFT. Click for more photos of Sucha Girl O'BJ or continue to learn about June 2018 puppies!
Sucha's mother Champion Sally Jo (5 lbs, 7 oz) was a lucky purchase through a good friend who is a top AKC/UKC judge. Sally Jo was my little lap (and heart) dog. She passed on her perfectly angulated rear quarters and strong joints to Sucha. But it is the incredible mind and "tuned in" sensitivity that makes Sucha so much like her mother. Sucha has a proper high tail set, always up as she excudes confidence and that "look at me" attitude that made her mom such an easy show ring winner.
Sucha Girl has a beautiful headpiece with perfect ears set high on the head. Her dark eyes sparkle with lively intelligence which is why I kept her - and called her "Sucha Brain" but Hal said that sounded corny...
Sucha's sire is Barbary Johnny Cash O'BJ I was soooo fortunate to have been able to acquire Johnny from the undisputed top show breeder, Denise Monette in CA. Johnny gave me perfect size and terrier type in a tuck-in-your-arm package which we've doubled up on in litter.
Sucha was bred to U-Gene O'BJ to carry on the masculine structure and perfect soundness which made his sire Hugely so famous.
U-Gene compliments Sucha structurally and genetically. Both are super-sound, great shoulders, strong legs and short back which perfectly exemplify the Toy Fox Terrier Breed Standard. With 30 years in Working Dogs, sorry, but even a Toy breed has to be structurally sound!
Sucha's puppies were born June 19, 2018! Be sure to return for updated puppy pics, here's Sucha in the bed with her one week old pups (L to R - boy, girl, boy)
Sucha's puppies now 21 days old and eyes wide open once we woke them up from their snuggle.
| | | |
| --- | --- | --- |
| Boy - Girl - Boy backs | Boy - Girl - Boy faces | 2 boys on left, girl on right |
Pictured here at 42 days old, faces first!
| | |
| --- | --- |
| 2 Boys so cute. | Little Girl already spoken for. |
Now their backsides.
| | |
| --- | --- |
| 2 Boy backs | Little Girl |
Sucha Pups are now 8 weeks old and $1800 each with full AKC registrations.
| | | |
| --- | --- | --- |
| Side Spot boy's face | Side Spot boy's show side | Side Spot boy's back |
| | | |
| --- | --- | --- |
| Back Spot boy's face | Back Spot boy's show side | Back Spot boy's back |
| | | |
| --- | --- | --- |
| Girl's face | Girl's show side | Girl's back |
Copyright © ToyFoxTerriersOBJ.com 1806 http://www.toyfoxterriersobj.com/Puppies/Sucha/1806-U-Gene-2M-1F.asp
Go back to price and policy information and the rest of the site.
Barbara Andrews may be reached at (828) 286-9945 (12 to 8 PM EST) in the Foothills of North Carolina or email BJ
Copyright © O'BJ 2002 Barbara J. Andrews. All rights reserved. Except for brief reference quotations with source provided, no portions thereof may be stored or reprinted in any form, electronic or otherwise, without prior express written consent of Barbara J. Andrews