Affair Of The Heart Litter by Ch. Hugely Handsome O'BJ
Perfect Puppies For Picky People!
Meet Trudy! She comes from a long line of outstanding show dogs. I purchased her especially to breed to Ch. Hugely but she lived up to her name and stole my heart!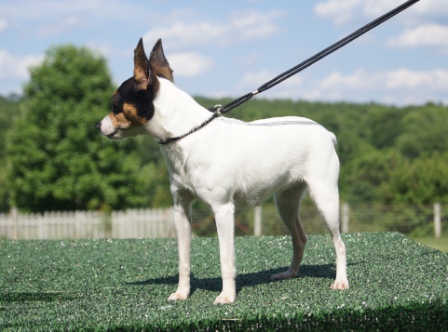 Her sire is GrCh 'PR' MaldonFox Strike A Nerve and her dam is GrCh 'PR' Fritzfox Waltzing Mathilda. Both parents are obviously exceptional breed representative as indicated by thier Grand Champion titles.
Trudy is a rather small Toy Fox Terrier 5 lbs, 3 oz) but she comes from a litter of seven! She has lovely bone and substance and that strong underjaw that is so often missing in this "terrier turned into a toy breed" but which should still retain its stong underjaw and grip. I like this shot because she's smiling at Denise and you can see that she has a chin! Many toy dogs have a weak lower jaw which results in dental problems. Mine do not.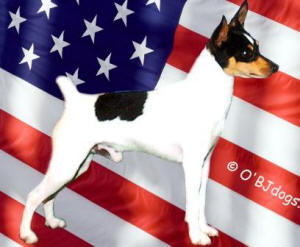 Bred to Ch. Hugely who is a Toy Fox Terrier legend and has his very own page. Click here to see Hugely Handsome in his younger days when he was the All Time #1 Top Winning Toy Fox Terrier. He stamps his puppies with his extraordinary soundness, showmanship, and upstanding balance.
We know this litter will set vital breed qualities which are increasingly diminished in the show rings. The TFT must be preserved as a perfect balance of toy dog size and intelligence with terrier structure, vigor, and hardiness. Trudy and Hugely will do just that!
If you are a breeder, a puppy from this litter can put you on sound genetic footing for the most important features of Toy Fox Terrier type. If you want a top quality pet and personal companion, call me to reserve your "Trudy-puppy"! Her litter is here! Born July 26th, one gorgeous female.
Mom and her beautiful sleepy 6 day old girl (Here's looking at you!)
Pretty little girl pictured here at 40 days old
| | | |
| --- | --- | --- |
| from the front | from the side | back view |
Click here If you missed price and policy information
Barbara Andrews may be reached at (828) 286-9945 (12 to 8 PM EST) in the Foothills of North Carolina or email BJ
Copyright © O'BJ 2002 Barbara J. Andrews. All rights reserved. Except for brief reference quotations with source provided, no portions thereof may be stored or reprinted in any form, electronic or otherwise, without prior express written consent of Barbara J. Andrews