HUGELY'S HEADLINE O'BJ
Meet "Header", born July 26, 2017. She is making a great addition to the O'BJ family.
She's the perfect example of this breed's intellect and devotion and has become my shadow.
Ever watchful and ready to snuggle anytime!
Her sire Ch. Hugely Handsome O'BJ earned his AKC Champion title undefeated. He then set new AKC records for the most consecutive Breed and Group wins ever achieved by a Toy Fox Terrier.
And he did it all owner handled, from Best Of Breed wins as a yearling puppy to Best Of Breed and Award Of Merit at the Oklahoma City Toy Fox Terrier National Specialty shows over the largest entries in breed history. Fact is, Hugely became the Top Winning Toy Fox Terrier of All Time, defeated only 3 times in his whole career.
Her dam is Trudy, grandparents are; sire GrCh 'PR' MaldonFox Strike A Nerve and dam GrCh 'PR' Fritzfox Waltzing Mathilda. Both grandparents are obviously exceptional breed representative as indicated by thier Grand Champion titles, Trudy comes from a long line of outstanding show dogs. Mom and her beautiful sleepy 6 day old girl "Header" (Here's looking at you!)
Trudy has lovely bone and substance and a strong underjaw that is so often missing in this "terrier turned into a toy breed". Many toy dogs have a weak lower jaw which results in dental problems. Mine do not..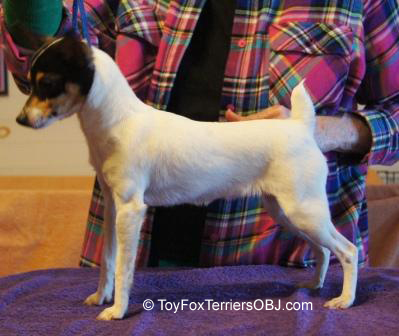 Header learning how to pose, she learns very quickly! (photos at 4 and 7 months old..
Four month old (left) "Header" not too sure....
At seven months (right), shedding but looks great and defanately has the hang of it!
She has turned out to be as acomplished at motherhood as she is at everything else but I'll be glad to have her back in my lap...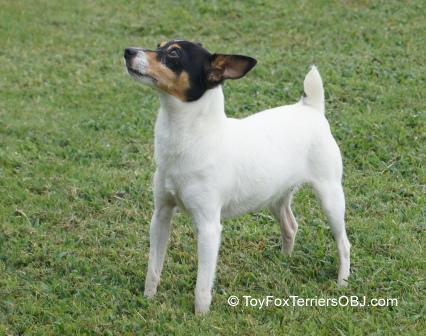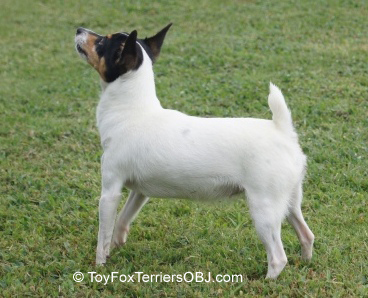 Header (left) at 24 months old says she'll happily pose if we show her the goodies! At right she shows off her baby-belly...
Header was bred to Rolex Right O'BJ. Click his name or use the Gene Bank drop-down menu or mobile menu above to see more of him.
Header's three puppies were born March 31st, 2020, two males and one female, click for availabilty for a Header puppy!
1811 https://www.toyfoxterriersobj.com/GeneBank/Hugelys-Headline-OBJ.asp
Go back to price and policy information or explore the menu bar.
Barbara Andrews may be reached at (828) 286-9945 (12 to 7 PM EST) in the Foothills of North Carolina or email BJ
Copyright © O'BJ 2002 Barbara J. Andrews. All rights reserved. Except for brief reference quotations with source provided, no portions thereof may be stored or reprinted in any form, electronic or otherwise, without prior express written consent of Barbara J. Andrews