KARRY ON O'BJ
"Karry", Knighter's litter sister, was born February 11th, (2018) my 60th wedding anniversary. Don't laugh but she also has her mother's perfect heart on her shoulder! Of course she also has perfect dentition and the deep strong terrier jaw that is so rare among toy breed dogs but which should define this toy terrier.
Karry's rich rust markings and her faultless structure are a hallmark of the O'BJ breeding program. Akitas O'BJ are still legendary around the world and this "All American" breed deserves no less!
Her mother Heart (click Gene Bank menu) is indeed my "heart dog" and my TV lap dog. I just couldn't let Karry and brother Knighter go. Making them extra special, their sire Rolex Right O'BJ, is a partial outcross to Barbary Toy Fox Terriers, the all-time top-winning bloodline of my dear friend Denise Monette. (see Johnny Cash O'BJ for Grand-Dad's photos)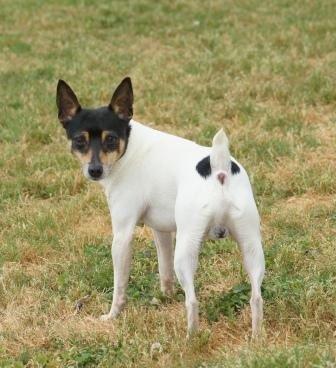 Rolex Right O'BJ is showing off his faultless rear, proportion, stance, and balance - and those big round eyes that are the hallmark of this toy-terrier breed. I like candid shots because even an unsound or poorly made dog can be hand-stacked and shaped for a posed "show photo".
Karry's mother is Purple Heart O'BJ, so named because as a baby, she leaped off the deck and landed with her front leg in a concrete block. She bravely accepted a cast that was nearly as big as she was! Factcheck: She is the only dog of my breeding to ever have a broken bone. I breed for strong dense bone just as Akitas O'BJ are still known for world-wide.
Toy Fox Terriers, like most Toy breed dogs, are physcially mature at a year and Karry's square outline balanced with just the right shoulder, hip, and stifle angulation in a muscular body make her hard to fault even when she's rocked back awkwardly. We got a better photo (below) by enticing her to forget about being "stacked" and posed for the first time in her life. She is not bathed or groomed in either photo as it was a spur of the moment thing when Denise was here to take puppy pictures.
Karry has her mother's kind, loving heart and is absolutely sound in mind and body. Heart did herself proud with Knighter and Karry! If I were still showing Karry would be in the record books like so any of my dogs. Of course I'd have to teach her to walk on a leash first...
She's shown here at 16 months old, we had to quickly take these photos as more thunderstorms rolled in. No problem... Karry would stand on her head for a bite of chicken and neither of us cared that she was "blowing" her ragged winter coat.
She is maturing beautifully. Since having her first estrus cycle, she's grown into herself and struts like a true showdog. That's all I ask and this breed, not just my dogs, are all like that if lovingly raised. Whatever YOU ask, wherever YOU want to go, it all sounds like a great idea to your Toy Fox Terrier!
1905 https://www.toyfoxterriersobj.com/GeneBank/Karry-On-OBJ.asp
Go back to price and policy information or explore the menu bar.
Barbara Andrews may be reached at (828) 286-9945 (12 to 7 PM EST) in the Foothills of North Carolina or email BJ
Copyright © O'BJ 2002 Barbara J. Andrews. All rights reserved. Except for brief reference quotations with source provided, no portions thereof may be stored or reprinted in any form, electronic or otherwise, without prior express written consent of Barbara J. Andrews