Hugely's Headline O'BJ puppies by Rolex Right O'BJ
Perfect Puppies For Picky People, litter born August 2019!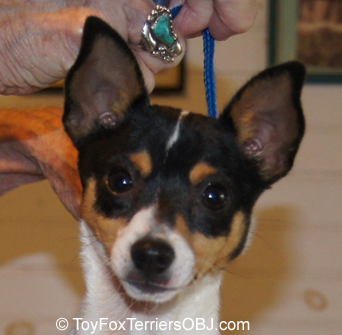 Meet "Header", my constant shadow, TV-time lap dog and daughter of my beloved Ch. Hugely. She is my 24/7 shadow and one of the most perceptive dogs I've ever had - even in a breed known for thier incredible intelligence.
Header is tiny, the only survivor of a tragic whelping from an outcross female I purchased for breeding. I put off breeding her for fear of whelping problems but she handled delivering her puppies as easily as she does everything. In fact, Header is a perfect example of this breed's intellect and inventiveness. She is as acomplished at motherhood as she is at everything else but I'll be glad to have her back in my lap...
Header's sire is Ch. Hugely Handsome O'BJ (click for in-depth info on Hugely). He was defeated only once while earning his AKC Champion title. He then set new AKC records for the most consecutive Breed and Group wins ever achieved by a Toy Fox Terrier.
He was always owner handled, including Best Of Breed and Award Of Merit at the OK City National Specialty shows over the largest entries in breed history. Fact is, Hugely became the Top Winning Toy Fox Terrier of All Time, defeated only 3 times in his whole career.
Header's dam is Trudy, shown here with Header at 2 weeks old. Perhaps being an only survivor speaks to the determination and intellect of the tiny pup that was meant to be my heart-dog. Header is/was my TV time lap dog and always as close as my ankle. It doesn't surprise me though that she takes motherhood seriously.
Like her sire, Header has large "terrier" teeth deeply rooted in a strong underjaw with perfect dentition. Having had Akitas with big powerful teeth and perfect occulusion I expect no less in a Toy-Terrier!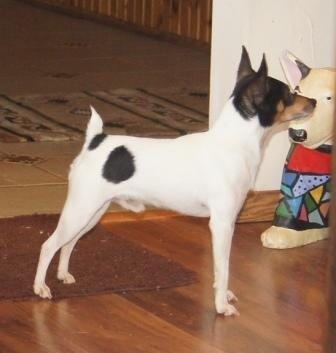 Header was bred to Rolex Right O'BJ who just turned 6. As a Birthday gift to him, we are making him available to a family of his own to be watchful over. (If interested, contact BJ@ToyFoxTerriersOBJ.com. You can see Rolex (at left) excells in overall type, soundness and structure, note short back, tail set, correct angulation, etc.
Both Rolex and Header have classic heads, great shoulders, strong legs and close-coupled, muscled backs which perfectly exemplify the Toy Fox Terrier Breed Standard. With 40 years of top-winning Rottweilers and Akitas, I simply can't abide an unsound dog. Many judges (and breeders) excuse movement faults in Toy breeds. Sorry, but I believe even a Toy breed lapdog has to be structurally and mentally sound!
Here are the first "nest" photos of Header's two boys born August 28th, 2019. Pictured at 2 weeks old enjoying dinner at mom's cafe.. For now we call them "Spotty" and "Whitey". These are sold but you can see Sucha's new litter of three boys here.
https://www.toyfoxterriersobj.com/Puppies/Sucha/1909-Knighter-3M.asp
Spotty... 5 weeks old, first time on the grooming table.
Puppy Pictures from Owners!
Whitey at 5 weeks old
Pictured below at 8 weeks old, if you are top of my list and have a preference let me know. "Spotty" - 8 weeks old
Pictured below at 8 weeks old. "Whitey" - 8 weeks old
Go back to price and policy information or explore the menu bar.
Barbara Andrews may be reached at (828) 286-9945 (12 to 7 PM EST) in the Foothills of North Carolina or email BJ
Copyright © O'BJ 2002 Barbara J. Andrews. All rights reserved. Except for brief reference quotations with source provided, no portions thereof may be stored or reprinted in any form, electronic or otherwise, without prior express written consent of Barbara J. Andrews