Purple Heart O'BJ's Litter by Rolex Right O'BJ
Perfect Puppies For Picky People!
One of the best genetic combinations I've ever done was breed Heart to Rolex. So I did it again... Click here to learn more about Rolex, my "Keeper" pick of litter because of his perfect size, structure, and soundness.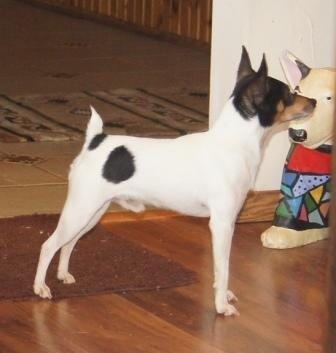 <-- Rolex is a perfect match for her, structurally and genetically. Both dogs perfectly exemplify the AKC Toy Fox Terrier Breed Standard and everything we look for in an outstanding TFT.
All Toy Fox Terrier puppies are darling but these babies are programmed for health, superior intelligence and structural soundness. They are tiny terriers bred and proven to uphold the AKC Breed Standard.
Heart's puppies were born July 8, 2020. First photos at 5 Days; 1 girl and 3 boys.
19 Days old, Blaze-face boy and No-Spot girl, see Three-Spot and Two-Spot boys below.
| | |
| --- | --- |
| Blaze-face boy (left) No-Spot girl (right) | Blaze-face boy (left) No-Spot girl (right) |
19 Days old, Three-spot and Two-Spot boys.
| | |
| --- | --- |
| Three-Spot boy (left) Two-Spot boy (right) | Three-Spot boy (left) Two-Spot boy (right) |
Heart's (4) 7 week old puppies, 1st time on a table, oh-boy, it sure is high up here! (see photos below)
| | |
| --- | --- |
| No-Spot girl Reserved | No-Spot girl Reserved to D. Dejanovic |
| | |
| --- | --- |
| Two-Spot boy Reserved | Two-Spot boy Reserved to the Hiters |
| | |
| --- | --- |
| Blaze-face boy Reserved | Blaze-face boy Reserved to J. Breier |
| | |
| --- | --- |
| Three-Spot boy Reserved | Three-Spot boy Reserved to K. Rhodes |
https://www.toyfoxterriersobj.com/Puppies/Heart/2007-Rolex-3M-1F.asp
Click here If you missed price and policy information
Barbara Andrews may be reached at (828) 286-9945 (12 to 7 PM EST) in the Foothills of North Carolina or email BJ
Copyright © O'BJ 2002 Barbara J. Andrews. All rights reserved. Except for brief reference quotations with source provided, no portions thereof may be stored or reprinted in any form, electronic or otherwise, without prior express written consent of Barbara J. Andrews