Purple Heart O'BJ's Litter by Noble Heart O'BJ
Perfect Puppies For Picky People!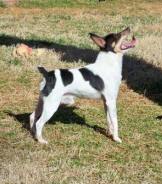 Heart is a Glimmer (left) daughter. I love this candid shot of Glimmer taken when we had her baby (Heart) out in the grass. In this photo, she's just sitting there smiling proudly, watching Denise take pictures of Heart.
Heart's sire is Barbary Johnny Cash O'BJ, shown at right. He is 5.25 pounds of solid muscle and Toy Fox Terrier personality. You can see how small he is in proportion to my foot! Johnny passes his handy size and superior balance on to his puppies.
You can see why we named her Heart. Her distinctive marking says it all.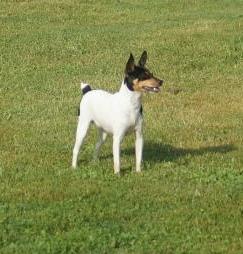 She's precocious and brave ("showing off" on the table at 9 weeks) and since it was a "P" litter, we named her Purple Heart O'BJ.
Here is Heart (left) at 14 months, and ok, too fat. Like all Toy Fox Terriers, she loves to eat! The snapshot was taken just before she had her first adult estrus cycle (season).
Click for more information and photos of Purple Heart O'BJ or scroll down to see her puppies because they are here!
Heart was bred to Noble Heart O'BJ. Noble Heart O'BJ is a phenomonally strong genetic package based on classic breed type, structure and exceptional intelligence. I thanked him for his thoughtfulness last night as he claimed his place in my lap.
For lots more info about and photos of Noble, click his name in the Gene Bank drop-down list in the nav-bar above or open the mobile friendly menu in the header.
Now you came here to see about a Toy Fox Terrier puppy, if you are a breeder, a puppy from this litter can put you on sound genetic footing for the most important features of Toy Fox Terrier type; headpiece, ideal size, soundness and the incredibly entertaining TFT personality. If you are a discriminating owner you know those vital "show" characteristics insure a healthy, highly intelligent, lovingly socialized Best Friend for life.
"Nest" snaphots of Heart's puppies, two boys and two girls born March 7th, 2021. First photo at 1 week old! 2 boys on the left and 2 girls on the right. Little plump precious babies!
2 Week old female puppies - 2Spot & backspot, such cute little faces.
2 Weeks old male puppies - NoSpot & 2Spot, you can see their plumpness. Mom's got good milk!
4 Week old female puppies - 2Spot & backspot, first time on table.
4 Week old female puppies - 2Spot & backspot
4 Weeks old male puppies - NoSpot & 2Spot, stacking pretty good!
4 Weeks old male puppies - NoSpot & 2Spot
https://www.toyfoxterriersobj.com/Puppies/Heart/2103-Noble-2M-2F.asp
Click here If you missed price and policy information
Barbara Andrews may be reached at (828) 286-9945 (12 to 7 PM EST) in the Foothills of North Carolina or email BJ
Copyright © O'BJ 2002 Barbara J. Andrews. All rights reserved. Except for brief reference quotations with source provided, no portions thereof may be stored or reprinted in any form, electronic or otherwise, without prior express written consent of Barbara J. Andrews