I'ma Puppies by Knight Of My Heart O'BJ
Perfect Puppies For Picky People
I'ma had one male and one female puppy born November 9th 2020, the last grandbabies of AKC top-winning Ch. Hugely! See their puppy photos below.
I'ma has her sire's exceptionally sound structure and character and her dam's incredible brain in a perfect TFT package!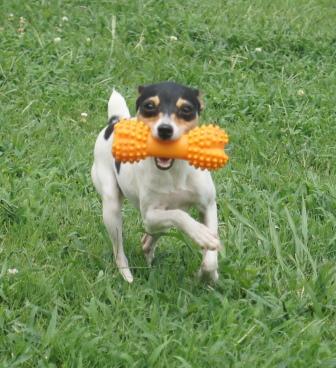 Meet Ima! (pictured left) she is a treasure in the O'BJ family. Ima Girl's mother is Sucha-brain (officially named "Sucha Girl O'BJ") on her AKC certificate. Ima is equally as intelligent as Sucha and I've watched her mother "teach" her things.
Ima's sire is Ch. Hugely Handsome O'BJ. Hugely earned his AKC Champion title undefeated (!). He then went on to become the Top Winning Toy Fox Terrier of All Time, and he did it all breeder-owner-handled, with no advertising campaign. Ima's mother Sucha Girl O'BJ is only 6 lbs 2 oz but it's all brains and her huge dark eyes sparkle with good-humored mischief.
Ima brings together the strong, close-coupled body of her sire and her mother's petite size and giant IQ. It's a pretty incredible package!
And yeah, Ima's got those Chihuahua eyes, a hallmark of the breed that "proclaims the brains" (of the Chihuahua) which is the other half of the Toy Tox Terrier gene bank!
She's 18 months old in these two candid shots. The sun peeked out for a moment during nearly two weeks of rain so I grabbed the camera - and ignored the mud on her. I hope you will too.
Ima was bred to Knighter, my Heart son. With his classic head, strong underjaw, faultless front, and terrier muscle, he's a handsome package with a solid gold pedigree.
Lots more info about him and his sire and dam on his page in the Gene Bank. Just click on Knight of My Heart O'BJ in the drop-down menu.
If you are a breeder, a puppy from this litter can put you on sound genetic footing for the most important features of Toy Fox Terrier type; headpiece, ideal size, soundness and balance topped off with outstanding TFT personalities.
If you are a discriminating owner you know those vital "show" characteristics insure a healthy, highly intelligent, lovingly socialized Best Friend for life.
Ima's puppies were born November 9, 2020, one girl and one boy, pictured below at 1 day old. 1 Spot boy and 2 Spot girl.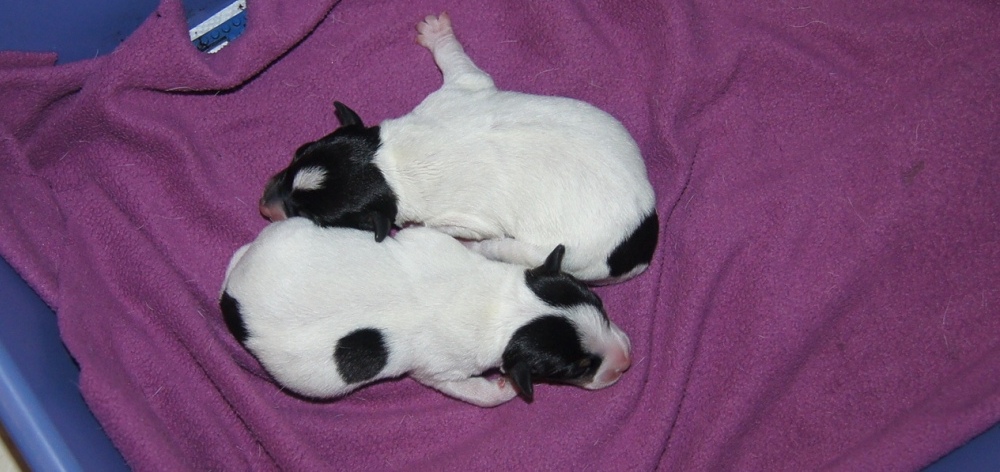 Ima's little boy and blaze-face girl at 14 days old, looking at a brand new world.
| | |
| --- | --- |
| 1 Spot boy (L) - Blaze-face 2 Spot girl (R) | 1 Spot boy (L) - Blaze-face 2 Spot girl (R) |
5 weeks old, blaze face girl first then, 1 Spot boy below
| | |
| --- | --- |
| Blaze-face 2 Spot girl | Blaze-face 2 Spot girl (reserved to Woerth) |
| | |
| --- | --- |
| 1 Spot boy | 1 Spot boy (reserved to Beck) |
https://www.toyfoxterriersobj.com/Puppies/Ima/2011-Knighter-1M-1F.asp
Go back to price and policy information or explore the menu bar.
Barbara Andrews may be reached at (828) 286-9945 (12 to 7 PM EST) in the Foothills of North Carolina or email BJ
Copyright © O'BJ 2002 Barbara J. Andrews. All rights reserved. Except for brief reference quotations with source provided, no portions thereof may be stored or reprinted in any form, electronic or otherwise, without prior express written consent of Barbara J. Andrews