Sucha Girl O'BJ puppies by
Valcopy Ter-Lee Miss Liddies Gigolo
Perfect Puppies For Picky People
3 male puppies born June 2, 2022. Sucha Girl O'BJ is tiny but a free-whelper like all my girls including her Champion dam.
The Coopers flew down from NJ with their linebred Valcopy youngster to do the breeding. Jig is an exceptional youngster, a tribute to the Valcopy line, and a perfect match for Sucha. Jig will finish his AKC Champion title this summer.
Sucha Girl O'BJ is small (6 lbs 2 oz) perfectly constructed and athletic like her sire and dam. We call her "Sucha brain" as her incredible mind is always busy but she never does anything wrong! Sucha passes on her high tail set (always wagging) and that "look at me" attitude that made her mom such a great show dog.
Sucha's huge round eyes exemplify the Breed Standard but above all, they sparkle with lively intelligence which is why I call her "Sucha Brain"!
Sucha's mother Sally Jo (5 lbs, 7 oz) was a classic Toy Fox Terrier (tiny but perfectly sound) which is why I used her when doing my Judging Seminars. Sucha's sire is Barbary Johnny Cash O'BJ, a smashing dog I was soooo fortunate to acquire from the undisputed top show breeder, Denise Monette in CA. Johnny and Sally Jo gave me exceptional TFT type, soundness and strong bones in a tuck-in-your-arm package.
Sucha was bred to Valcopy Ter-Lee Miss Liddies Gigolo "Jig". A strong genetic package based on classic breed type, structure and exceptional intelligence. I thank Liddie for sharing her wonderful little dog. Champion pointed, he will go back out with his pro handler after this record heat wave ends
OK, you came here to see about a Toy Fox Terrier puppy. If you are a breeder-exhibitor, a puppy from this litter can put you on sound genetic footing for the most important features of Toy Fox Terrier type; headpiece, ideal size, soundness and the incredibly entertaining TFT personality. If you don't show but are a discriminating owner you know those vital "show" characteristics insure a healthy, highly intelligent, lovingly socialized Best Friend for life.
"Nest" snaphot of Sucha's puppies born June 2, 2022, her three boys are 4 days old. Eyes are opening and I'll take more photos next week when they are up and walking!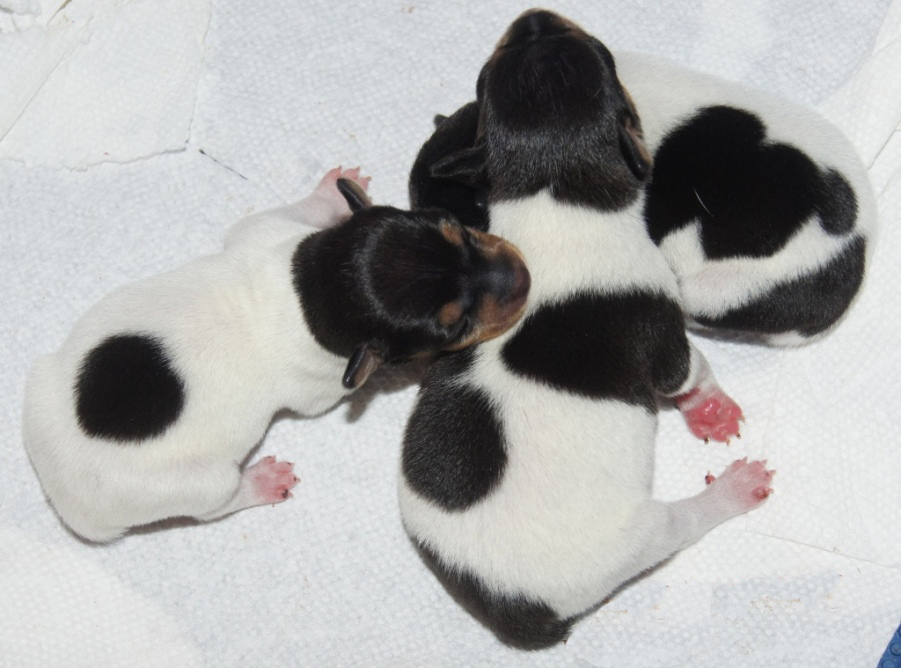 Sucha's boys are so cute, getting ready for their raw meat treat, eyes are open and they are starting to explore their whelping area.
https://www.toyfoxterriersobj.com/Puppies/Sucha/2206-Jig-3M.asp
Go back to price and policy information or explore the menu bar.
Click To Share This Page or reach Barbara Andrews at (828) 286-9945 (12 to 7 PM EST) in the Foothills of North Carolina or email BJ
Copyright © O'BJ 2002 - All rights reserved. Except for brief reference quotations with source provided, no portions thereof may be stored or reprinted in any form, electronic or otherwise, without prior express written consent of Barbara J. Andrews