Why O'BJ Shows Pets
WHY top show winning AKC Champion Toy Fox Terrier bloodlines equal gorgeous, healthy, intelligent "show-off" family pets.
Every breeder thinks their dogs are the best.

That's why judges were invented. No one can claim to breed good dogs unless they prove it in the show ring. More to the point, only a breeder who has that commitment will have the knowledge and dedication necessary to help you after the sale.
Creating 23 generations of top ranked AKC Winners is better than winning the Triple Crown. It's been an exciting hobby but that's not why we show.
NOTE: I've just had a family cancel so I have a male puppy ready to go mid-September 2022. You can see him here but I hope you will explore this site and learn what created him before you call or email me.
Before you make decisions that will impact your life for many years, get the facts
Fact: According to AKC statistics, less than 15% of litters are bred by people who care about genetic health or whether their dogs look and act like that breed. Purebred dogs, including Toy Fox Terriers, have become a profitable crop, just like chickens or pigs, and are farmed accordingly. Puppy mills churn them out to be sold online, in pet shops, or by local retailers posing as the nice family who had a litter to "teach the kids."
I know, you're thinking "how do I tell a caring breeder from the other kind?" Pretty simple really. Just as we're known by the company we keep, breeders are known for the quality of the dogs they display to licensed judges, competitors, and spectators. If they don't show, they don't know. Or maybe they just don't care.
Ch. Hugely Handsome O'BJ was always breeder-owner-handled (against licensed professional handlers). Even with no advertising, he was defeated only three times in his whole career. Hugely became the #2 Nationally ranked Toy Fox Terrier in less than a year. We had to quit showing due to Bill's cancer but Hugely's last two shows were back-to-back Group II wins with three Top 10 nationally ranked dogs in competition.
Hugely's virtues are generously passed on to his offspring but strong genes can be ruined by careless breeding. That's why he has never been at public stud and why I'm careful about who gets his show puppies.
So what does any of this mean if you just want a family pet? Look at it this way. From puppy matches to the Westminster Dog Show on TV, comparative competition decides which dogs should produce the next generation. The centuries-old tradition is still enjoyed by royalty, and by ordinary people like me and you. It's not just a "beauty contest" as commercial breeders would have you believe! It is about insuring strong, healthy gene pools.
With fewer than six breeding age Toy Fox Terriers, we can't afford mistakes. My first mentor, Dorothy Gooch of Skyraider Dobermans, ingrained in me that bringing a hundred puppies into the world just to get one winner was unconscionable. She was equally right when she said "Establishing a recognized bloodline requires a commitment few are willing to make."
A Google search will bring up hundreds of Toy Fox Terrier breeders pumping out litters. A few well-worded questions may reveal how many breeds, and how many dogs they have and how many champions they have bred. I'm not saying that buying from a show breeder is a safe bet but it's a good place to start because facts are facts.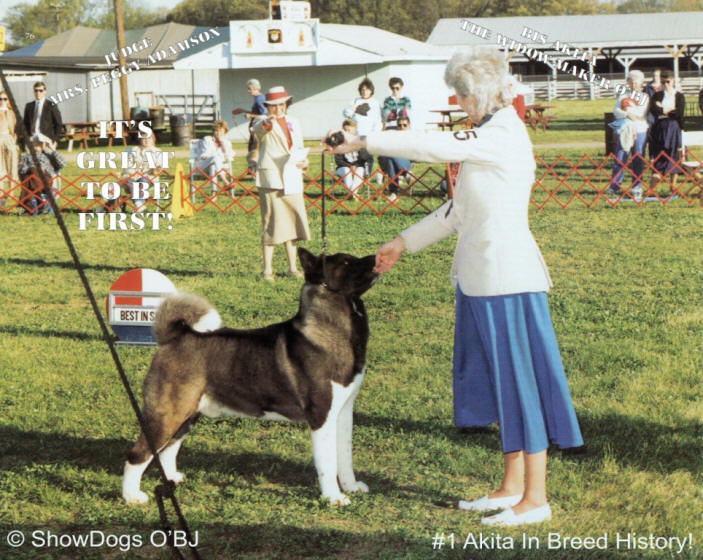 Fact: shelters and rescue groups are full of commercially bred purebred dogs. Less than 2% of those defective or discarded dogs began life in the hands of a dedicated show breeder.
Fact: Most Toy Fox Terrier breeders, anxious to sell you a "show puppy," neglect to mention that a typical show weekend costs at least $300. For an overnight trip or a handler, you can double that amount. Multiplied by the very minimum of three shows required to earn the Champion Title, the cost of a making a mediocre dog into a champion can be staggering.
Fact: In order to win, a breeder must study genetics. Show dogs are assessed by a written Breed Standard that defines physical features, health and condition, and most important, breed personality, attitude and expression! The judge checks all of these qualities. They even count teeth and testicles! If you buy a Toy Fox Terrier puppy, it should look and act like a Toy Fox Terrier!
Fact: Dog shows challenge a dog's immune system and emotional stability. He's continually exposed to disease. Traveling is stressful. Having strangers examine his mouth and private parts is disconcerting to any dog! Children shrieking, crowds cheering, loudspeakers blaring…. if he copes with all of this because his person asks him to, if he struts into the ring and shows his stuff because he's a Toy Fox Terrier (and knows it), only then has he proven himself fit to reproduce. Unlike a wild stallion, the domestic dog has no natural way to win the right to sire. In a modern world, only the stars of the ultimate canine "Reality Show" should win the right to produce offspring - for someone like you.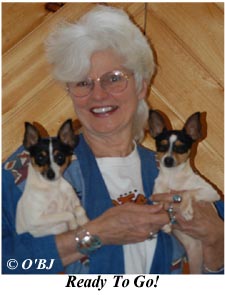 Fact: Expect to have a Toy Fox Terrier for fifteen years or more - about three times as long as you would keep a car that you would never buy from an unknown maker built in a factory with no quality control or inspection... Hadn't thought of it that way? I know. That's what some breeders count on.
Fact: Guarantee? An attorney will tell you it's worthless unless they live in the same state and even then, it is only a small claims matter. Misrepresentation is not criminal and pursueing it not worth the expense of a civil suit. A guarantee is only as good as the person who gives it, meaning someone who has a reputation worth protecting.
One More Fact: No one likes to lose. Show Breeders work hard to build a "line" of wonderful Toy Fox Terriers for YOU. Whether you want pet or show quality, be sure your puppy doesn't come from a puppy-producing machine hidden from public view.
Now you know why I say "we show our pets!" We call them in from the yard, wash off the North Carolina clay, trim toenails, polish coats and load them in the motor home. Toy Fox Terriers O'BJ are awarded by judges, admired by our competitors, and adored by proud owners. They are carefully planned and presented with pride. And that's a fact!
There's a a lot more on this site designed to help you decide on a dog. Whether for a family pet or show dog, you should know what very few breeders will tell you about Health Certifications and what the breed was intended to do, other than be your personal best friend.
2002157162 https://www.toyfoxterriersobj.com/About-Breeder/Why-OBJ-shows.asp
Reach Barbara Andrews at (828) 286-9945 (12 to 7 PM EST) or send an email to BJ, located in the Foothills of North Carolina. Click To Share This Page.
Copyright © O'BJ 2002 - All rights reserved. Except for brief reference quotations with source provided, no portions thereof may be stored or reprinted in any form, electronic or otherwise, without prior express written consent of Barbara J. Andrews, SAAB Member.