Do Toy Fox Terriers ....?
Q: Do Toy Fox Terriers like elderly people?
A: Only if they are over 100 years old.
Sweetie" is pictured with Jan's 101 year old mother Polly Corder.
Xtra Sweet O'BJ, Owner: Lucy Marcum, Breeder: BJ Andrews
Q: Do Toy Fox Terriers Free Whelp?
A: Sure, and there's no charge for extra features.
In fact, they are more terrier than toy when it comes to free whelping litters.
Courtesy of Margo Carter, Phoenix Rising Toy Fox Terriers
Q: Do TFT's Like To Dress Up?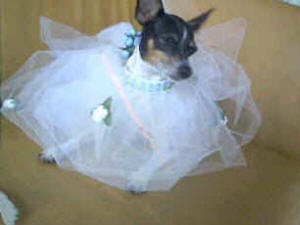 A: Only in High Fashion
Here's Toopsa, with a dress I made for her. She is very spoiled, she wears Burburry coats, Fifi and Romeo Sweaters and Simon bought her the collar, leash, and bag from Louis Vuitton !!! And she loves Paris because she goes out with us in restaurants. Owners, top fashion designer "Berangere"
Q: Do Toy Fox Terriers Sleep In The Bed?
A: Only When You're In It.
Otherwise, they are content to just watch over you while you sleep. This is Wanda, patiently waiting for Henry to wake up. It was her 3rd birthday and this little dog has everything!
Wanda is owned by Henry & Cynthia Margenau
Q: Do TFTs Like To Ride?
A: Yes, but they much prefer to drive!
This is Wanda's litter sister Jazzy taking her owner Kaye Ritchie for a spin. When she isn't out gadding about, Jazzy likes to chill out on her chaise lounge.
Jazzy is a part-time chauffeur for Kaye and Jim Ritchie in Jacksonville
Q: Do Toy Fox Terriers Dig?
A: Yes, but they prefer to wear the flowers.
Her owners tell us she grew them herself but we think she had help "arranging" the bouquet.
Weeones' Stella Storyteller is owned by Peter & Anne Gendron, bred by Michele Gauthier
1502 https://www.toyfoxterriersobj.com/Information/Do...TFTs.asp
Reach Barbara Andrews at (828) 286-9945 (12 to 7 PM EST) or send an email to BJ, located in the Foothills of North Carolina. Click To Share This Page.
Copyright © O'BJ 2002 - All rights reserved. Except for brief reference quotations with source provided, no portions thereof may be stored or reprinted in any form, electronic or otherwise, without prior express written consent of Barbara J. Andrews