I'M A HANDSOME GIRL O'BJ
Ima Girl has her All-time top winning sire's exceptionally sound structure and character and her dam's incredible brain and perceptiveness in a perfect TFT package!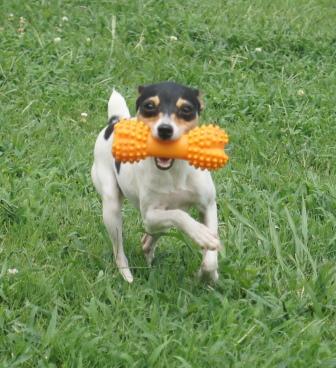 Meet Ima! (pictured left) Born October 2017, a great addition to the O'BJ family. "Ima Girl" has her All-time top winning sire's sound structure and character and her dam's brain and preceptiveness in a perfect TFT package!
We called her mother Sucha-brain but I officially named her "Sucha Girl O'BJ" because, well, it looks better on her AKC certificate. Ima is equally as intelligent as Sucha and I've seen her mother "teach" her things. Weird? Yeah...
Ima's sire is Ch. Hugely Handsome O'BJ. Hugely earned his AKC Champion title undefeated (!) He then set new AKC records for the most consecutive Breed and Toy Group wins ever achieved by a Toy Fox Terrier. Fact is, Hugely became the Top Winning Toy Fox Terrier of All Time, defeated only 3 times in his whole career. My husband's advancing illness ended Hugely's career but he was truly "one in a million." Show people and canine geneticists compare him to Ch. Sachmo, my Akita who became the #1 sire of all Working Breeds. Hugely was never at public stud but like Sachmo, he reliably passed his on his legendary soundness, structure, and breed type. To say I've been twice blessed is an understatment.
Ima's mother Sucha Girl O'BJ is only 6 lbs 2 oz but it's all brains! She has beautiful expression, perfect ears set high on the head and her huge dark eyes sparkle with good humored mischief.
Ima brings together the strong, close-coupled body of her sire and her mother's petite size and giant IQ. It's a pretty incredible package! And yeah, Ima's got those "chihuahua" eyes, a hallmark of the breed that "proclaims the brains" (of the Chihuahua) which is the other half of the Toy Tox Terrier gene bank!
Here's Ima at 11 months old (on the right). Anyone will tell you I never "posed" my dogs in the show ring. "Made right, they stand right." Ima is standing in her natural pose. Dog show judges and exhibitors would say "she can't put a foot wrong" and true, that soundness and balance is what made her grandsire unbeatable in the show ring. Bill and I demanded these qualities in our Akitas and no less in these little guys but it is Ima's intelligence and personality that make her so precious.
The Toy Fox Terrier loves high places so they play "king of the hill" on the platform I had built for them. I think Ima was looking at me when Denise snapped this picture. She's muddy but you can see her shoulders, topline, and tail set - all knit together with perfect turn of stifle, strong joints, short hocks and the atheleticsm that defines the TFT among other "toy" breeds.
Not all Toy Fox Terriers are made this way but they should be!
She's 18 months old in these two candid shots April 5th. The sun peeked out for a moment during nearly two weeks of rain so I grabbed the camera - and ignored the mud on her. I hope you will too.
I got her to turn the other way so you can see her show ring off-side.
Did you know the Toy Fox Terrier gives its direct ancestor (the Chihuahua) a run for the money in intelligence? I just realized when publishing her page that Ima has never had a collar on! If it ever turns sunny again, I'll leash train her. Or not...
Ima's male puppy was born June 2nd, 2019 and was reserved right away! Click for Ima's updated puppy page.
If you're interested in a puppy you can email me for availability and how you can get on my deposit list.
Copyright © ToyFoxTerriersOBJ.com 18071904 https://www.toyfoxterriersobj.com/GeneBank/I'm-A-Handsome-Girl-OBJ.asp
Go back to price and policy information or explore the menu bar.
Barbara Andrews may be reached at (828) 286-9945 (12 to 7 PM EST) in the Foothills of North Carolina or email BJ
Copyright © O'BJ 2002 Barbara J. Andrews. All rights reserved. Except for brief reference quotations with source provided, no portions thereof may be stored or reprinted in any form, electronic or otherwise, without prior express written consent of Barbara J. Andrews