PRICE, POLICY, GUARANTEE
How much does a Toy Fox Terrier puppy or retired show dog cost? Are pups available or do I have to wait? What about health guarantees?
It all depends on the breeder but let me ask you something. Do you want a distinctive companion, a forgiving friend who listens, understands you and never borrows money? Probably not enough money in the world to buy that - unless we're talking about a dog!!! That's why they're called Man's Best Friend.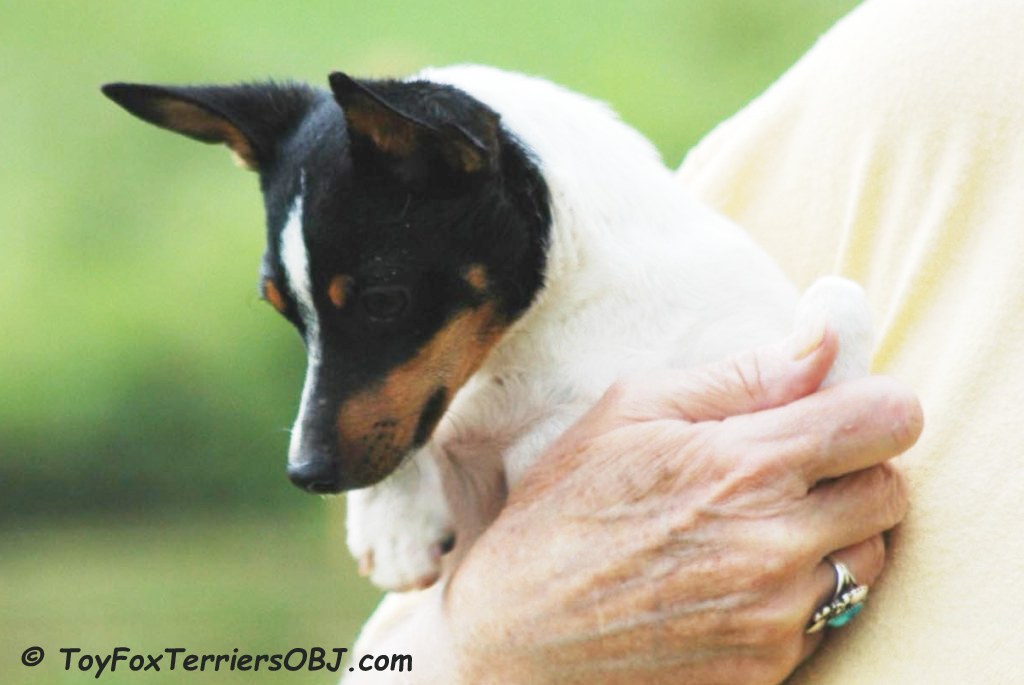 So what's the price of a Toy Fox Terrier?
Maybe you don't have time for the show ring, you just want the best personal companion, one who is welcome everywhere, doesn't eat crackers in bed and is the ultimate conversation opener? I understand but you also want a healthy dog and that is part of being pure-bred meaning with strong genes created with love, care and knowledge.
O'BJ puppies are out of generations of my top winning AKC record-breaking Toy Fox Terriers. That means outstandingly sound minds and bodies, publically proven and show ring awarded by AKC judges. They are born in my den...
Puppy mill produce is cheap but if you want a lovingly reared, socialized, genetically healthy dog, keep reading. Whether you plan to show or only want a healthy, outgoing puppy, you can expect to spend at least $1800 or more for Toy Fox Terrier puppy from any reputable breeder.
If you've given this a lot of thought and want to add an O'BJ Toy Fox Terrier to your family, here's how that happens. We do the Questionnaire thing, you make your $200 deposit, we watch the babies develop, I send you puppy pictures as they progress, and then at 8 weeks you choose your new best friend. At 9 weeks you come to visit and pick up your puppy.
Please note. I do not ship but you can fly in to Charlotte International, drive to Rutherfordton and fly back with your V.I.P. (Very Important Puppy!) in cabin.
Guarantees. Every puppy is born in my bedroom or office, depending on whether I'm sleeping or working. They are reared according to over 54 years of proprietary methods that insure optimum physical and mental development.
I guarantee your Toy Fox Terrier will grow up healthy and handsome if you follow the common sense "Care Package" I provide and call me with any questions. If you have bought a show dog, I also guarantee it can attain an AKC championship and reproduce. And I LOVE getting photos!
How Are My Toy Fox Terrier Puppies Raised? At 28 days, when the dam would be returning from the hunt with a belly full of meat, O'BJ puppies get their first taste of (raw) meat (venison or beef) hand fed. While I balk at regurgitating partially digested meat for them (that is their mother's job) their first solid food is what nature intended for a carnivore. I gradually introduce goat's milk, eggs, boiled chicken, vegetables, fruits and a bedtime snack of cottage cheese and (whole) buttermilk. They get raw beef bones for teething and by 6 weeks, a small amount of kibble. I am gratified that so many other breeders are now following this protocol which to mama dog and me is "natural".
The Dog Room is a pass-through between my den and the home-based 3-state plumbing office which is now our web publishing facility. It was and still is the pathway of daily activity so puppies are fussed over by me, staff and service people. When nothing's going on, the dogs sun bathe on their outside hammocks or in winter, they curl up in custom-made doggie beds on radiant-heat ceramic floors.
All 7 of my dogs share house time and "Toy Fox Terriers O'BJ" run and play in a carefully tended half-acre grass paddock in clean mountain air.
No, we don't rent rooms but we are the best dog-gone Bed and Breakfast in North Carolina!
When Do I Get To Choose My Puppy? I send you lots'a photos, every couple of weeks. I describe each puppy's personality and character as they develop and by their 8th week, I'm comfortable pricing them. Then, depending on the order in which your deposit was received, you choose your puppy and make travel arrangements!
When Can I Come Get My Puppy? Not until 9 weeks. Pet or Show, every O'BJ puppy must learn the social skills only a good mother dog can teach. Play manners, pecking order, and "pack" interaction insures a better adjusted companion that gets along well with children and other pets. Having been taught by his mom and me, he will understand the limits you impose. Hopefully, there will be limits.

What Will I Need Before Puppy Comes Home? I send you a "pre-puppy" checklist so you know what to have on hand, where to get it, and what to feed. I provide lifetime support because when I hold a just-born puppy, I am responsible for his future. You also get a Care Package ©1998 of detailed information available only to O'BJ owners. Yeah, you own me too...
Can My Toy Fox Terrier Be Shipped? I have flown Akitas to four continents but I don't ship nowadays. You can fly in to Charlotte International, rent a car and come meet me and my 8 dogs.
Or if you have time, make it a twofer - come to the most-visited national park in America, check out the gambling casinos on the Cherokee Reservation, sight-see Grandfather Mountain and the mile-high swinging bridge and pick up your puppy on the way home.
A Word About Showing. We love to share in your fun but I don't push anyone to show. Another champion to my credit doesn't matter. I've bred over 300 AKC Champions and established a lot of AKC records, including one that will stand for 100 years: Breeder of the Best Male and the Best Female Akita in the historical 1984 AKC All Breeds Centennial Show! If I need another ego boost, I'll ask for your help in 2084. Just kidding but we have set over a dozen All-Time AKC records in Akitas, Mini-Bull Terriers and now, Toy Fox Terriers.
If you want top quality but don't plan to show or breed, that's okay. We just want you to enjoy your Toy Fox Terrier with no pressure from a breeder.
We have friends who collect classic cars because they love having them in the garage. I'm equally as happy with a classic dog curled in my lap. And why not? Can a painting hug you back??!! Does a statue follow your every step? Most people only wear their precious jewels on special occasions. I delight in mine every day!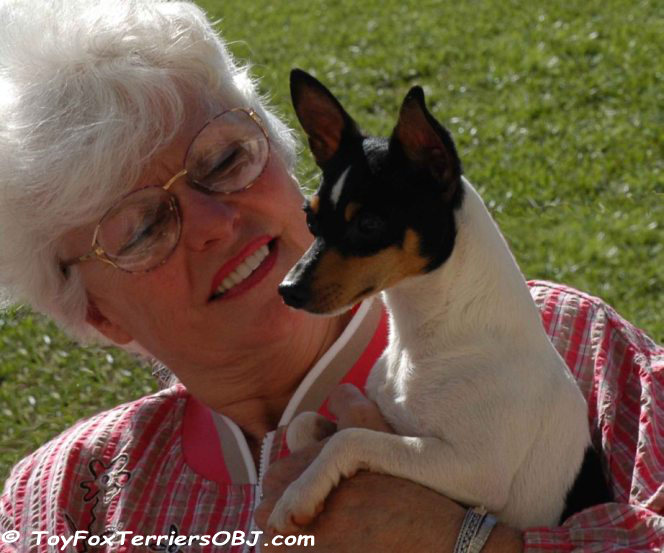 So whether he's going to be your personal companion or wow 'em in the show ring, an O'BJ Toy Fox Terrier has "credentials". My puppies (like AKC record setter Ch. Hugely shown here) are created through decades of attention to detail. If you're debating between a show quality puppy or a family pet, see Why We Show Pets. And no matter where you get your next best friend, check out The Breeder's Pedigree.
If you've given this a lot of thought and want to add an O'BJ Toy Fox Terrier to your family, explore the links below. Puppies are reserved by $200 deposit.
After a lot of debate, at 83 years young, I couldn't resist... I bred Ima to Noble... Email me or see menu above to learn more about the breed, Ima and Noble, and to get on my deposit list.
© 21032208 https://www.toyfoxterriersobj.com/Puppies/Price-policy-guarantee.asp
Reach Barbara Andrews at (828) 286-9945 (12 to 7 PM EST) or send an email to BJ, located in the Foothills of North Carolina. Click To Share This Page.
Copyright © O'BJ 2002 - All rights reserved. Except for brief reference quotations with source provided, no portions thereof may be stored or reprinted in any form, electronic or otherwise, without prior express written consent of Barbara J. Andrews