Ch. Sally Jo
Perfect Puppies For Picky People!
Champion sired, family pet or show, Ch. Sally Jo's puppies come with 44 years of show ring and genetic excellence plus AKC Master Breeder lifetime support.
Meet Ch. Fritzfox Solomon's Choice, call name Sally Jo. We were able to purchase her through a good friend who is a UKC judge because she only had one puppy her first litter and rejected it.
She's been a great producer and a wonderful mother, passing on her perfectly angulated rear quarters with strong joints and well let down hocks.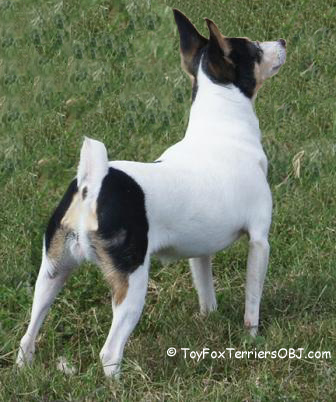 She has a strong body and excellent bone even though she only weighs 5 1/2 pounds.
Tail set is ideal and always up as she excudes confidence and that "look at me" attitude that made her an easy show ring champion.
One of her best features is her headpiece. Ideal size and shape, ears set high on the head and always alert. But it is her big beautiful eyes that speak to you. Bred to Hugely, who also has exceptionally big luminous eyes and expression, we hope to set this vital breed quality which is increasingly diminished in the AKC show rings.
If you are a breeder, a puppy from this litter can put you on sound genetic footing for the most important features of Toy Fox Terrier type; headpiece, ideal size, soundness and balance topped off with outstanding TFT personalities.
152-91609s12 https://www.toyfoxterriersobj.com/GeneBank/SallyJo.asp
Go back to price and policy information or explore the menu bar.
Click To Share This Page or reach Barbara Andrews at (828) 286-9945 (12 to 7 PM EST) in the Foothills of North Carolina or email BJ
Copyright © O'BJ 2002 - All rights reserved. Except for brief reference quotations with source provided, no portions thereof may be stored or reprinted in any form, electronic or otherwise, without prior express written consent of Barbara J. Andrews