JANE & CALVIN
Every O'BJ puppy goes back to Westgate Sabrina O'BJ, one of our foundation bitches. We bought her before the breed became AKC recognized so she was never shown. When AKC accepted Toy Fox Terriers, I used Jane in my judges' seminars because most AKC judges had never judged the breed. "Plain Jane" helped me teach them to reject common Toy Fox Terrier faults such as "toy-dog" mouths, long soft backs, poor movement and above all, atypical temperament. Jane showed the judges proper sized high-set ears, perfect proportion, beautiful eyes and expression, and the confident showmanship inherent in the Toy Fox Terrier. Her show faults never outweighed her 5.5 pounds of true Toy Fox Terrier character, loyalty, and uncanny intelligence. Jane left us with empty hearts only partially healed by her descendents.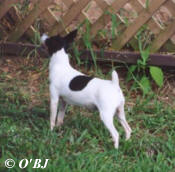 So before I tell you about the cutest, smartest, prettiest puppies in the world

you should know what created them. Jane was hunting lizards over by the rock wall when one of our plumbers came speeding up the long paved driveway. I called her and as always, she instantly left the hunt and sprinted across the yard to me. He gunned his truck coming out of the steep curve. Jane reacted by veering off to attack the unexpected threat. It was instantaneous for her, an eternity for me.
She was a perfectly adorable Toy Fox Terrier, a tiny but free whelping mother. Jane was also the most uncannily intelligent and perceptive dog we have ever owned! She went everywhere with me; shopping, beauty shop, etc. If Jane wasn't welcome, I wasn't going.
She was an adult when we bought her and the first thing she did when we got home from the airport was to bite Bill! She then turned and looked up at me and that was that. She quickly forgave Bill for being so presumptuous and neither of us ever understood why she chose me instead of him. We decided it was just "meant to be" and indeed, she was my only comfort when I lost Bill just a few years later...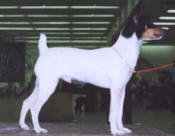 Jane is the mother of Calvin Cool, my Home Page dog and Hugely's sire. Calvin is pictured here as an awkward seven months old puppy but already shows rare (in Toy Fox Terriers) shoulder layback, turn of stifle, short back and perfect hocks. Calvin's to-die-for head and rich rust red markings are a throwback to the Manchester Terrier. His brains were from Jane.
Next to Jane, Calvin was the love of my life until fate stepped in and I gave him to a local lady recovering from heart surgery. When they came to visit, I realized the elderly couple needed him much more than I did. She didn't know that. She had never had a dog and her beloved cat of 18 years had died while she was in the hospital. Her husband and their grown children had heard dogs were good for sick people and called me for a puppy. I had no pups but my heart went out to them and we talked.
She seemed to have no will of her own but on her husband's urging, she awkwardly extended a hand to Calvin who looked up at me for reassurance. I had my doubts. But the old man was as excited as a little boy on Christmas morning. His eyes sparkled (with tears?) as he urged her to like the dog. My concerns melted away when ever so gently, my normally rambunctious young dog licked her hand.
Calvin cured her depression and as dogs do, he helped her overall health which allowed her handicapped husband to return to part time work. Calvin was only lent to me; he was meant for them.
Jane also gave me Ch. Getta Blaze O'BJ and Ch. Getta Garbo O'BJ; both girls finished their AKC titles with repeated wins over adult males, including several top-ranked Champions. Garbo finished undefeated at 7 months to become the youngest female Toy Fox Terrier Champion and the All Time top winning TFT puppy. Blaze finished her title by going BOS over Specials at the Toy Fox Terrier Club Regional Specialty.
Jane was a powerful producer but most of all, she was my under-the-covers dog, and everything a Toy Fox Terrier can and should be. In my whole life, Jane was the best friend I ever had except for my husband. Writing this is hard because I know there will never be another Jane for me but hopefully there is a heart-dog for you.
If you're looking for a life-long friend, a Toy Fox Terrier of outstanding quality and intelligence, and if you can be patient, you will get that here because Bill and I have never settled for less.
Meet the rest of the O'BJ dogs in the Gene Bank. If I have a litter on the way or puppies for sale, info will be on the "Toy Fox Terrier Puppies" link above on navigation bar.
For in-depth information on all breeds, what your vet won't tell you about dog food (!) and authoritative articles on training, house-breaking, dogs and children, etc. to go the world's first and largest dog-site: www.TheDogPlace.org
2002 https://www.toyfoxterriersobj.com/GeneBank/Jane-Calvin.asp
Go back to price and policy information or explore the menu bar.
Reach Barbara Andrews at (828) 286-9945 (12 to 7 PM EST) or send an email to BJ, located in the Foothills of North Carolina. Click To Share This Page.
Copyright © O'BJ 2002 - All rights reserved. Except for brief reference quotations with source provided, no portions thereof may be stored or reprinted in any form, electronic or otherwise, without prior express written consent of Barbara J. Andrews, SAAB Member.