TOY FOX TERRIER PUPPIES!
Perfect Puppies For Picky People...
In 2005 a caller asked if I had a perfect puppy for a really picky person. I laughed, said "Yes I do!" so it seemed like the perfect slogan. Like people, no dog is "perfect" but after 56 years of trying (breeder of over 300 AKC Champions in 3 breeds) I'm still loving the challenge.
You can jump to my "Sucha Puppy for sale now page and see my pick puppy that I kept but have come to my senses and decided to sell. My health is good but at 81 but apparently I lost my mind <smile> when I broke my self-imposed limit of 8 dogs and fell for this boy. But before you go, I hope you'll read this page first.
Take 90 seconds (yeah, I timed the read) to learn what is important to me and I hope, to you. Whether you want a small breed puppy for show or as a lap sized family pet, you care about health and overall quality.
My husband enjoyed the dog shows and enabled me to become the AKC record holder of top winning Rottweilers, Akitas, and Bull Terrers before age demanded downsizing and we discovered the Toy Fox Terrier. (Established All-Time records in TFTs as well.)
The photo at right shows where my puppies are born, 11 feet from my desk... where I am most of the time. At night mother-to-be is in my lap (ignoring TV) or in her snuggle-bed by my bedside.
Toy Fox Terriers learn so quick... At about 28 days, the puppies notice their surroundings. They try yipping at me, demanding attention. I'm pretty smart too so I stay focused on the computer and ignore them. At this age, a puppy's attention span is shorter than a gnat's leg so they go back to their toys.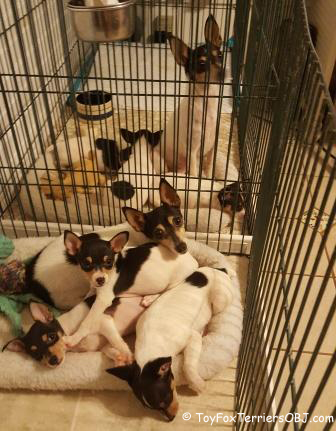 But within another week, they'll be all over my office exploring (and chasing dust balls)!
Then, at 8 weeks as shown (left) in these two litters born the very same week, they move into the dog room where their mother shows them how to go outside through the doggie door.
All Toy Fox Terrier puppies are clever but dogs should excel at what they were bred to do. The first thing you should know is that not all TFTs are created equal. O'BJ Toy Fox Terriers are known for above average intelligence, vibrant good health and strong bones. After so many years with big dogs our first Toy Fox Terrier purchase taught me about brittle bone syndrome. It was a horrible experience but it made me insist on the same genetic strength that made Akitas O'BJ known worldwide. We also learned about "toy dog teeth" and the expense involved. So in addition to strong bones, we insist on a deep jaw and big terrier teeth.
A well bred , properly raised Toy Fox Terrier will be with you longer than that new car so buying a puppy deserves the same research. Sobering thought eh? The funny thing is that most owners wouldn't trade their O'BJ puppy for two new cars! Bragging? I guess, but your car isn't your best friend, right?
This 4 months old male puppy out of AKC Ch. Fannie Mae O'BJ, shows what you should be looking for. The ideal Toy Fox Terrier head has equal proportions and parallel planes. That means in profile the muzzle is at the same angle as the flat topskull (the part from eyes to back of head) with no hint of Chihuahua roundness.
A Toy Fox Terrier puppy should have a deep, well developed "underjaw" (see his strong chin?) with large, deeply rooted "terrier teeth". Show or pet puppy, you want a little dog that can see, hear, breathe and eat - a toy dog whose teeth don't fall out and whose legs don't break. These are terrier characteristics which I demand in my bloodline.
Why? Because the Toy Fox Terrier is in the UKC Terrier Group, the original registry for the breed. The TFT is a Terrier in a Toy dog body. That makes him an ideal lap dog but with the strong physique and vibrant health that is the hallmark of a working terrier. By the way, my Toy Fox Terriers have a "terrier mouth" capable of gnawing a raw beef bone or chicken wing - and they get them twice a week!
Sorry I held you up... If the Toy Fox Terrier sounds like a fit for you, see what may be my last litter. Sucha bred to Knighter, born September 7th, they are weaned, vaccinated, potty trained and ready to go to their new owners.

Or to learn more about the breed, explore the menu bar at top. Most important, see the Price, Policy & Guarantee page.
rev 1906 href="https://www.toyfoxterriersobj.com/Puppies/Puppies-Now.asp" style="text-decoration: none">https://www.toyfoxterriersobj.com/Puppies/Puppies-Now.asp
Barbara Andrews may be reached at (828) 286-9945 (12 to 7 PM EST) in the Foothills of North Carolina or email BJ
Copyright © O'BJ 2002 Barbara J. Andrews. All rights reserved. Except for brief reference quotations with source provided, no portions thereof may be stored or reprinted in any form, electronic or otherwise, without prior express written consent of Barbara J. Andrews