NOBLE HEART O'BJ
Born September 2018 and pictured at 14 months old (right) you can see his perfect earset and calm, happy attitute.
At 11 months old (left) his rich rust markings are evident along with the perfect glossy coat for which the breed is known. He is developing into a really "Handsome" TFT like his famous grandfather, Ch. Hugely (see menu bar) who broke all records in the breed ring and launched the Toy Fox Terrier's credibility in the Toy Group.
Toy Fox Terriers are physcially mature at a year and Noble's square outline (made possible by a short-coupled strong loin) balanced with just the right shoulder, hip, and stifle angulation make him extremely hard to fault, standing or gaiting.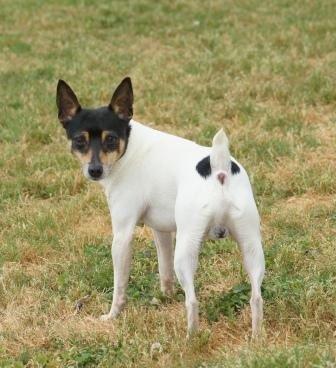 Noble's sire, Rolex Right O'BJ known for his faultless rear, proportion, proud stance and those big round eyes that are the hallmark of this toy-terrier breed.
I like candid shots because even an unsound or poorly made dog can be hand-stacked and shaped for a posed "show photo" but it is how the dog presents himself that matters. I have hundreds of stacked show photos but prefer to show you these candid, ungroomed, untrimmed, and totally natural snapshots.
Here is Noble's mother Purple Heart O'BJ, so named because as a baby, she leaped off the deck and landed with her front leg in a concrete block. She bravely accepted a cast nearly as big as she was! She earned her name, clump-clumping through the house and healed without so much as a scar!
Factcheck: For those of you who believe broken bones are a problem in toy breeds, she is the only dog in my bloodline to have ever had a broken bone. I breed for strong dense bone just as my Akitas O'BJ are still known for world-wide. Heart defines the breed. Heart Of Gold, Sweetheart, Brave Heart, you name it, she is my heart-dog because she's everything the TFT should be.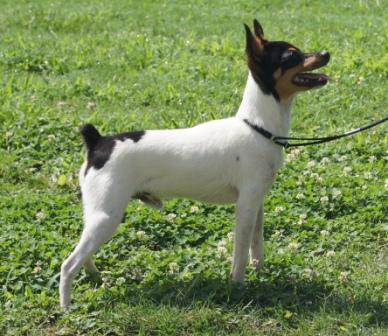 Here is Noble at about 8 months old, being an amazing little self-taught showdog. You can see his perfect topline (short strong back) and tail set (always up, usually wagging) and his ideal shoulder, stife, and hock angulation. This is a cell-phone candid, we'll take posed pictures when he turns a year old in September.
Noble is amazingly agile, even for a Toy Fox Terrier! And his personality is all his! Even as a baby he stood out for being his own little guy. He made up new games. I finally (being a dumb human) realized that he deliberately hid toys from his littermates and calmly observed their excitement when they found them!
He has taken it upon himself to "check his territory" each time they go out to run and play. I was first impressed by his movement as he trotted along the fence line, then after a few days of watching and admiring his "gait" I realized his ritual had purpose. He checks his territory, then satisfied there have been no intruders (like the 5 foot long black snake they killed?) he doubles back, purposly lifting his leg along the way.
That self-appointed job completed, he dashes off to play with the rest of the pack. And yes, Noble gets along with my other two males but considers himself their equal. Noble pictured here at 11 months old is filling in nicely...
Noble is a phenomonally strong genetic package based on classic breed type, perfect structure and exceptional intelligence. I thanked him for his thoughtfulness last night as he claimed his place in my lap.
19062002 https://www.toyfoxterriersobj.com/GeneBank/Noble-Heart-OBJ.asp
Go back to price and policy information or explore the menu bar.
Barbara Andrews may be reached at (828) 286-9945 (12 to 7 PM EST) in the Foothills of North Carolina or email BJ
Copyright © O'BJ 2002 Barbara J. Andrews. All rights reserved. Except for brief reference quotations with source provided, no portions thereof may be stored or reprinted in any form, electronic or otherwise, without prior express written consent of Barbara J. Andrews