Purple Heart O'BJ
Toy Fox Terriers O'BJ Foundation Female
Heart is what we call her and she defines the TFT. Heart Of Gold, Sweetheart, Brave Heart, you name it, she is my heart-dog because she's everything the Toy Fox Terrier should be.
Click the photos below and they will pop open larger. Either "close" the photo or if you are on mobile device, hit your "back" button to return to this page.
Heart's mother is Glimmer To Go (left). I love this candid shot of Glimmer. She's just sitting there watching Denise with the camera, wondering what we're doing with her puppies but trusting... Glimmer was innately a "good dog" and a sweet soul and she passed that on to Heart.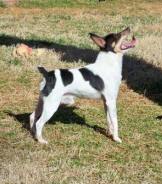 Heart's sire is Barbary Johnny Cash O'BJ, shown at right. He is 5.25 pounds of solid muscle, a size reducer who generously imparted his "up on leg" and perfect balance. If you've explored this site you know that brittle bone sometimes occurs in toy breeds. Johnny has dense solid bone which he passes to his progeny along with his short-coupled, strong topline, true terrier alertness and of course, the Toy Fox Terrier personality.
To learn more about Heart's sire and dam, click the O'BJ Gene Bank in the top navigation.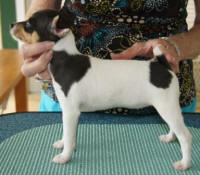 Here is Heart learning to "pose" as a puppy. You can see why we named her Heart. Her distinctive marking says it all. She's precocious and brave ("showing off" on the table at 9 weeks) and since it was a "P" litter, we named her Purple Heart O'BJ.
She grew up with the same balance and perfect proportion. As a female, her back is a little longer to accomodate beautiful babies <smile> but her strong bone, soundness and exceptional breed type hasn't changed.
This head study at left taken at 27 months shows Heart's perfect profile, strong muzzle and deep terrier jaw with strong teeth.
Her photo at right is an awkward angle but shows her perfect ears, beautiful head and large dark eyes which she passes on to her puppies.
Heart rivals Sucha as the most intelligent, quick learner I have. Her round-bed is under my desk and she's my TV dog every night. She's never been "trained" because she obeys my every thought!
Heart's puppies are here! 3 boys and 1 girl born July 8th, 2020! Click for more information and availability.
1905 https://www.toyfoxterriersobj.com/GeneBank/Purple-Heart-OBJ.asp
Go back to price and policy information or explore the menu bar.
Barbara Andrews may be reached at (828) 286-9945 (12 to 7 PM EST) in the Foothills of North Carolina or email BJ
Copyright © O'BJ 2002 Barbara J. Andrews. All rights reserved. Except for brief reference quotations with source provided, no portions thereof may be stored or reprinted in any form, electronic or otherwise, without prior express written consent of Barbara J. Andrews