DUDLEY DO RIGHT O'BJ
At 84 years young, I bred Dudley, one last time before sending him to his new home in Alaska. He sired what will be my last litter. On May 9th Ever Ima Doll O'BJ gave me very special puppies. They are probably all reserved but you can Email me for TFT puppy inquiry.
Dudley! He was born June 2021, carefully built on sound genetic footing for the most important features of Toy Fox Terrier type; ideal size, soundness and balance topped off with that unique TFT personality.
His sire is Knighter, my Heart son, a foundation sire from the day he was born. Shown at left, Knighter's classic head, strong underjaw, faultless front and terrier muscle make him a handsome package with a solid gold pedigree.
Knight Of My Heart O'BJ is as intelligent and devoted as is his mother "Heart". That's all I ask and this breed, not just my dogs, are like that if lovingly raised. Whatever YOU ask, wherever YOU want to go, it all sounds like a great idea to your Toy Fox Terrier.
Dudley's dam is Ima, a treasure in the O'BJ family. Ima is faultlessly constructed like her famous sire Ch. Hugely Handsome O'BJ but equally important, she's blessed with her dam's brain (Sucha) and perceptiveness. All that, wrapped in a perfect TFT package! This candid shot was at about 9 months.
Ima is a "thinker", somewhat on the serious side but like all Toy Fox Terriers, she loves to run like the wind... just for the fun of it! Ima is blessed with those big expressive Chihuahua eyes, a hallmark of the Toy Fox Terrier breed that "proclaims the brains" of the Chihuahua which is the other half of the Toy Fox Terrier gene bank!
Dudley is shown here at 7 weeks old, already showing the strong bones, short back and balance of an outstanding Toy Fox Terrier!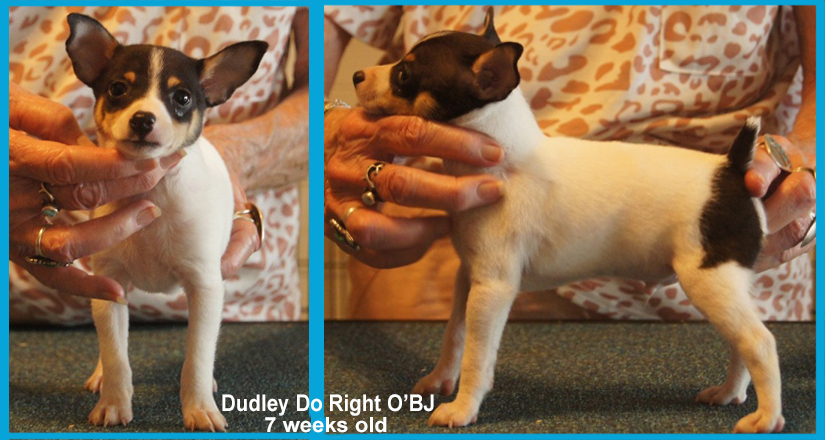 Today, 4/21/22, spur-of-the-moment, I scooped him up as Denise was helping me herd them through the sunroom and into the house. "Do we have any recent photos of Dudley?" When she said no, I asked her to get a dog treat and grab the camera.
Here is an example of what makes this breed so special. I groom and do toenails in the dog room, on the counter by the sink. Dudley hasn't been on the sunroom grooming table since his "baby photo" above. Of course (!) he would win the highest AKC show-ring honors but today Dudley showed what makes the Toy Fox Terrier, i.e. the self-confidence of a terrier and the toy breed's inherent acceptance of whatever his person wants...

Yes, Dudley's 'bred right and built right' but more than that, he is happy doing whatever I want him to do. The photos are totally candid, no prep, no fuss, no bother! I scooped him up, stood him on the grooming table, let him sniff the piece of liver and Denise took these snapshots. Easy!
You know what they say. A picture is worth a thousand words but I can't help pointing out his perfect structure, i.e. shoulder, hip and hock angulation plus an exceptionally strong "topline" (the back) that comes together as square, sound, and in perfect balance.
Dudley defines the AKC Breed Standard for the Toy Fox Terrier. Makes me wish I could still run around the show ring! His "movement" is sound, purposeful and a delight to watch as he "gaits" across the yard.
Oh well, those dog show days are gone but my appreciation for physical structure and soundness will never change. Dudley Do Right...does!
ToyFoxTerriersOBJ EST 2002 © Apr 2022 https://www.toyfoxterriersobj.com/GeneBank/Dudley-Do-Right-OBJ.asp
Go back to price and policy information or explore the menu bar.
Reach Barbara Andrews at (828) 286-9945 (12 to 7 PM EST) or send an email to BJ, located in the Foothills of North Carolina. Click To Share This Page.
Copyright © O'BJ 2002 - All rights reserved. Except for brief reference quotations with source provided, no portions thereof may be stored or reprinted in any form, electronic or otherwise, without prior express written consent of Barbara J. Andrews, SAAB Member.