KNIGHT OF MY HEART O'BJ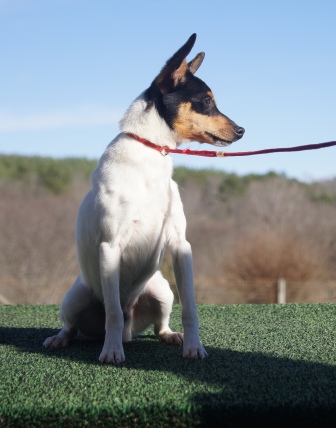 Knighter was a "keeper" from day one but he's 7 months in this photo which shows his classic head, perfect ears, strong underjaw, faultless front, and baby fat turning to terrier muscle.
Knighter's mother Heart is indeed my heart dog and my lap dog. Knighter's sire is Rolex, a partial outcross to Barbary Toy Fox Terriers (the all-time top-winning bloodline) through my dear friend Denise Monette. (see Gene Bank tab for sire and dam photos)
Knighter was born February 11th (2018) on my wedding anniversary. On that date in 1956 I gave my heart to Bill Andrews. Nothing maudlin here, just a strange coincidence.
Toy Fox Terriers, like most Toy breed dogs, are physcially mature at a year and his square outline balanced with just the right angulation in a muscular body make him hard to fault. Knighter has his sire's athleticism in a 6 lb package and his mother's kind, loving heart. Absolutely sound in mind and body? You betcha! Is he top show quality? If I were still showing he would be in the record books with Champion Hugely!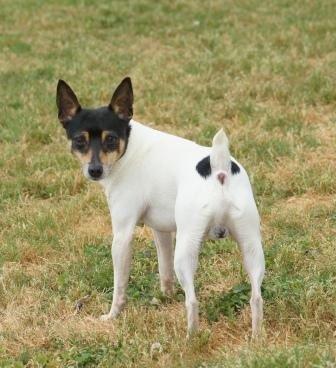 Knighter's sire is Rolex Right O'BJ and I chose this photo because you can see his faultless rear, balance and those big round eyes that are the hallmark of this toy-terrier breed. I like candid shots because even an unsound or poorly made dog can be hand-stacked and shaped for a posed "show photo". I have hundreds of those but prefer to show you these candid, ungroomed, untrimmed, and totally natural snapshots.
Here is Knighter's mother Purple Heart O'BJ, so named because as a baby, she leaped off the deck and landed with her front leg in a concrete block, snapping it snapped nearly in two. She bravely accepted a cast nearly as big as she was! She clump-clumped through the house for 2 months but healed without so much as a scar! She defines the breed. Heart Of Gold, Sweetheart, Brave Heart, you name it, she is my heart-dog because she's everything the TFT should be.
Factcheck: For those who think broken bones are a problem in toy breeds, she is the only dog of my bloodline to ever have a broken bone. I breed for strong dense bone just as Akitas O'BJ are still known for world-wide.
Knighter is shown here at 14 months, quickly taken when a thunderstorm was building. That's when the temperature drops and the wind whips through our Great Smoky Mountians. The dogs love it and I grab a camera...
He again amazed me with one free-pose after another. Of course I picked the best ones to put on here but "he never puts a foot wrong" so they were all good shots.
Knighter is more than a handsome package with a solid gold pedigree. He's as intelligent and devoted as his mother. He isn't leash trained but he accepts that weird thing around his neck and trots along beside me. That's all I ask and this breed, not just my dogs, are like that if lovingly raised. Whatever YOU ask, wherever YOU want to go, it all sounds like a great idea to your Toy Fox Terrier.
As an aside on the intelligence and bonding this, when The World Of The Akita topped the best seller list in 1996, I was put under contract by TFH and authored several other breed books for what was then the "world's largest publisher of dog books". When I heard about the Toy Fox Terrier ancestory, remembering my research for The Chihuahua, I realized why the TFT is soooo incredibly intelligent AND so indestructible. The brains of the world's smartest breed and the structure and hardiness of Smooth Fox Terrier? Wow! What more could anyone want???
Knighter had his first opportunity to sire and he just about blew it with a maiden bitch but Ima Handsome Girl, a Hugely daughter, whelped June 2nd, 2019. As a breeder, this is a 5-star male puppy!
1905 https://www.toyfoxterriersobj.com/GeneBank/Knight-Of-My-Heart-OBJ.asp
Go back to price and policy information or explore the menu bar.
Barbara Andrews may be reached at (828) 286-9945 (12 to 7 PM EST) in the Foothills of North Carolina or email BJ
Copyright © O'BJ 2002 Barbara J. Andrews. All rights reserved. Except for brief reference quotations with source provided, no portions thereof may be stored or reprinted in any form, electronic or otherwise, without prior express written consent of Barbara J. Andrews