WORTH A MILLION O'BJ
Meet my pick of litter puppy "Bucks", an impressive little boy and a great addition to the O'BJ family. Born April 2020, he's shown at right as a 7-week old baby.
His sire is Rolex (click O'BJ Gene Bank) and his dam is Minnie Pearl O'BJ (a partial outcross bitch out of Worthy). Bucks is from my "W" litter and as my pick puppy, he's worth all that his granddam "Worthy" cost me...
Bucks was 7 weeks in this baby photo. A note about this breed... I was a professional trainer and competed in AKC Obedience Trials. In the early 70s we drove from Florida to CA to meet with Bill Koehler (Disney Studios' top trainer) but when we fell in love with the Toy Fox Terrier I lost interest in formal training - not necessary!
... But just before he turned 5 months old, spur of moment, I asked Denise to grab the camera and I grabbed a piece of ham. Like all TFTs, he's always right at my ankle so I hadn't thought about leash training...
Obviously he has no idea what "stand pretty" means but he could smell the meat... Denise took quick snapshots while I showed him a piece of ham but he was so excited he couldn't "be still" so yeah, now I'm motivated to leash train him!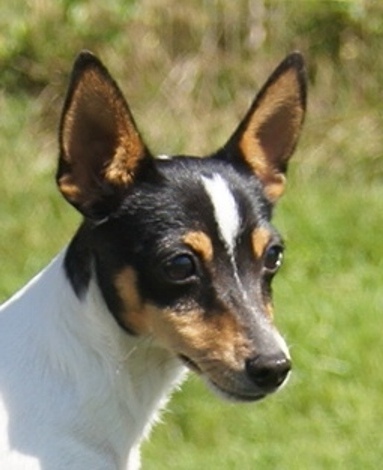 He has a perfect tailset, always up and wagging but confused about what I wanted, tail was down. I'll use these anyway until we can do better because even at this awkward 5-month stage, "Bucks" is hard to fault.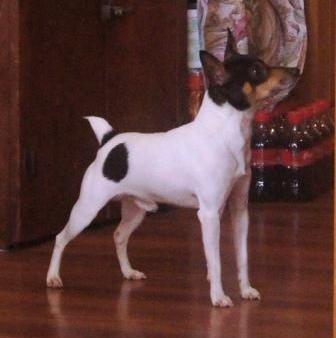 His sire Rolex Right O'BJ is known for his faultless rear, proportion, proud stance and those big round eyes that are the hallmark of this toy-terrier breed.
Rolex was a perfect match for Pearl and together they perfectly exemplify the Toy Fox Terrier Breed Standard as regards type and personality. More than that, my 30 years in Akitas and big Working Breeds demands structural soundness and my little little TFTs do not dissapoint.
Buck's dam is Minnie Pearl At Darlington O'BJ (click her name to see the 3 boy litter). "Pearl" lives with Forest Ranger William Allen. Bucks' great grand-parents AKC GrCh 'PR' MaldonFox Strike A Nerve and AKC GrCh 'PR' Fritzfox Waltzing Mathilda are sound, typy and impressive show dogs as indicated by their AKC Grand Champion titles.
Whether you want a dog for show and breeding or as a beloved family pet, you want a dog that is vibrantly healthy, structurally strong and sound, and that looks like and acts like the breed you've chosen. That is Bucks.
20S09 https://www.toyfoxterriersobj.com/GeneBank/Worth-A-Million-OBJ.asp
Go back to price and policy information or explore the menu bar.
Reach Barbara Andrews at (828) 286-9945 (12 to 7 PM EST) or send an email to BJ, located in the Foothills of North Carolina. Click To Share This Page.
Copyright © O'BJ 2002 - All rights reserved. Except for brief reference quotations with source provided, no portions thereof may be stored or reprinted in any form, electronic or otherwise, without prior express written consent of Barbara J. Andrews, SAAB Member.