Minnie Pearl O'BJ Puppies by Rolex Right O'BJ
Perfect Puppies For Picky People!
Meet Pearl! She's pictured with co-owner William Allen who lives in Darlington, SC. He brought her back for a rendevous with Rolex. Their union created three darling male puppies that he spoiled silly :) The boys are AVAILABLE NOW - see photos below.
Pearl's mother Worthy was purchased as a genetic oucross for my breeding program. Both her sire and dam are outstanding show dogs as indicated by thier AKC Grand Champion titles.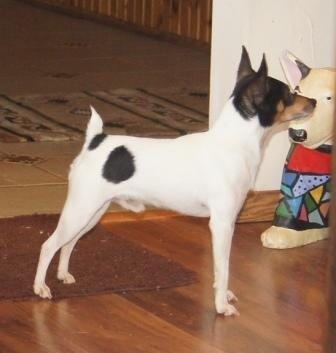 Pearl was bred to Rolex Right O'BJ to set litter genetics for overall health and outstanding personality.
<-- Rolex was a perfect match for her, structurally and genetically. Both are super-sound and Rolex excells in compact strong legs and back which perfectly exemplify the Toy Fox Terrier Breed Standard. With 30 years in Working Dogs, sorry, but even a Toy breed has to be structurally sound!
All Toy Fox Terrier puppies are cute as can be but these babies are genetically programmed for superior health, intelligence and soundness. They are tiny terriers bred to entertain their family and uphold the AKC Breed Standard. Over 50 years of breeding top Champions and I couldn't be more proud of these O'BJ babies.
Here are Pearl's 8 week old puppies born April 22nd and ready to go! Call or Email for Availability.
(Photos below in rows: 1-spot boy, 2-spot boy, 3-spot boy)
1-spot (Available)
2-spot (reserved by the Carraro's)
3-spot (Reserved by the Kneuer's)
Go back to price and policy information or explore the menu bar.
Barbara Andrews may be reached at (828) 286-9945 (12 to 7 PM EST) in the Foothills of North Carolina or email BJ
Copyright © O'BJ 2002 Barbara J. Andrews. All rights reserved. Except for brief reference quotations with source provided, no portions thereof may be stored or reprinted in any form, electronic or otherwise, without prior express written consent of Barbara J. Andrews