GENETIC FOUNDATION PEDIGREES
by AKC Hall Of Fame Breeder Barbara Andrews
If you're looking for a Toy Fox Terrier puppy, spend 30 minutes here to learn enough about genetics to avoid years of frustration, heartache, and vet bills.
This section (the Gene Bank) explains why and how genetics determine structure, health, personality, and size. Pedigrees are important in all domestic animals but especially in the family pet or show dog you plan to spend waaaay over a decade with.
Every Toy Fox Terrier breeder should be proud to show you pictures and tell you all about the puppy's pedigree; parents, grandparents, and even further back. If they can't do that, they are not breeders, they are just "puppy producers" who don't care (or don't even know) about correct breed type, temperament, and health including strong bones, joints, and immune systems.
Not every dog has to be a champion but every puppy should have champions close up in the pedigree. Why? Because it means those Toy Fox Terriers were sound enough in body and mind to be seen in public. Think about that. Is that why so many pedigrees today show no genetic plan and no dogs of proven quality? You might as well buy a pet shop puppy or even riskier, adopt a shelter dog.
By the way, we've been owned by more than one shelter dog. Diddy Bitecha was on death row at the Pinellas County "shelter" but we recognized an extraordinary depth of character in the dog that refused to acknowledge us. We went back to him over and over and finally talked them into letting us adopt him. Diddybitecha was one of the most memorable dogs we ever owned and when years later I began a serious study of canine genetics, we understood why.
So ask questions. Not a third degree - that would turn anyone off - but inquire about the litter sire and dam and their "credentials." Don't get caught up in today's hype on health certifications. The dumbest, most deranged or ugliest dog can easily get health clearances but it won't look or act like a Toy Fox Terrier.
Do the sire, dam or grandparents have AKC or UKC titles? Champion titles mean the dog is an outstanding breed representative. It looks like, acts like, and is as sound and agile as all Toy Fox Terriers should be. Obedience "degrees" such as "Companion Dog" indicate an owner who loves their dog enough to train and compete in public with him or her. Agility titles mean (an athletic owner

) and a highly motivated, structurally sound dog.
If you find a litter from a breeder who also shows their dogs in Earth Dog, Terrier Races, or other sanctioned activities, rejoice, that breeder knows what Toy Fox Terriers were bred to do!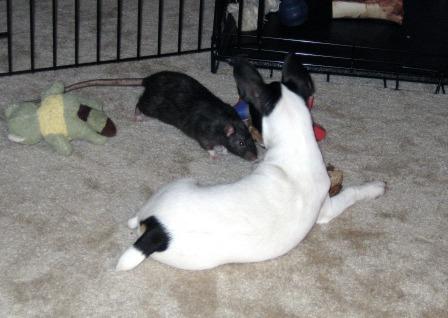 Like their larger relative, the Rat Terrier, The Toy Fox Terrier is among the world's best ratters and varmint eradicators. .Jane knew when the weather turned cold, the field mice would move into the equipment garage. She loved the hunt! No rodent (or snake!) was safe as she wriggled into every nook and cranny, caught them quick as a flash, instantly snapping necks and quickly seeking the next one, she left me or Bill to dispose of the dead pests.
If you have livestock, you absolutely know the value of varmint control! The Toy Fox Terrier will sleep in your bed at night and "work like a dog" in your barn or stable the next day. Isn't it amazing that such strong instinct gives way to an owner who has a pet rat? ("mouse" over photo for details)
If possible, you should meet the breeder and the puppy's parents and relatives. No Aunt, Uncle or Grandparent on premises? No photos of litter relatives? Uh oh. That breeder knows less about Toy Fox Terriers than you do. Go elsewhere! Wisely chosen, a Toy Fox Terrier will be with you a lot longer than the home entertainment center or the new car you spent so much time researching before making a final selection.
In no particular order other than Jane, here are the dogs behind any puppy you may get from me.
Westgate Sabrina O'BJ "Plain Jane" was one of our first Toy Fox Terriers. We bought her as a brood bitch (for her bloodline) and the young male dog as show quality. Jane took over our home and my heart. The male was immediately placed as a pet.
These are Jane's daughters Blaze & Garbo, followed by littermates Lollypop & Lucky Dog.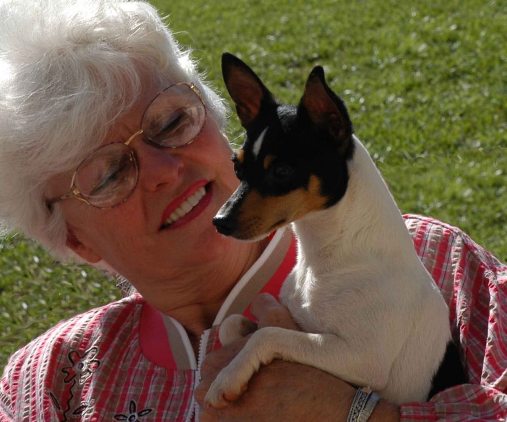 Here is Hugely Handsome, one of the top winning Toy Fox Terriers of his time. He was never professionally campaigned as is done today, in fact he was always proudly breeder-owner-handled by me. Before my husband died, we had a lot of good times and memories to last a lifetime.
Little by little, I'll get photos scanned in and more pages done for individual dogs. With only 6 dogs, you'd think it would be easy but my foundation dogs were "before internet" and old photos are packed away.
If by chance you "landed" on this page, the menu bar at the top will take you to in-depth Toy Fox Terrier information; Health, History, a comparison of AKC & UKC Breed Standards, and Puppies for sale.
2002 https://www.toyfoxterriersobj.com/GeneBank/Genetic-Foundation.asp
Go back to price and policy information or explore the menu bar.
Reach Barbara Andrews at (828) 286-9945 (12 to 7 PM EST) or send an email to BJ, located in the Foothills of North Carolina. Click To Share This Page.
Copyright © O'BJ 2002 - All rights reserved. Except for brief reference quotations with source provided, no portions thereof may be stored or reprinted in any form, electronic or otherwise, without prior express written consent of Barbara J. Andrews, SAAB Member.