Hugely's Headline O'BJ puppies by Knight Of My Heart O'BJ
Perfect Puppies For Picky People
Header's puppies were born November 6th 2020! See her puppies photos below.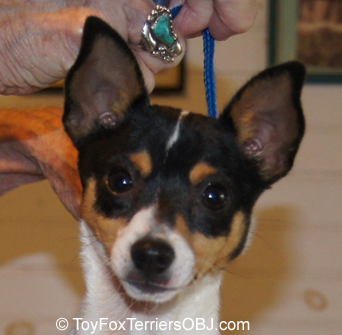 Meet "Header", my constant shadow, TV-time lap dog and daughter of my beloved Ch. Hugely. She is my 24/7 shadow and one of the most perceptive dogs I've ever had - even in a breed known for thier incredible intelligence.
Header is tiny, the only survivor of a tragic whelping from an outcross female I purchased for breeding. I put off breeding her for fear of whelping problems but she handled delivering her puppies as easily as she does everything.
In fact, Header is a perfect example of this breed's intellect and inventiveness. She is as acomplished at motherhood as she is at everything else but I'll be glad to have her back in my lap...
Header's sire is Ch. Hugely Handsome O'BJ (click for in-depth info on Hugely). He was defeated only once while earning his AKC Champion title. He then set new AKC records for the most consecutive Breed and Group wins ever achieved by a Toy Fox Terrier. It is significant that he did it all "Owner Handled" competing against professionally handled and promoted dogs.
Header's dam is Trudy and Header was the only survivor. That speaks to the determination and intellect of the tiny pup that was meant to be my heart-dog, always in my lap or glued to my ankle.
Ima was bred to Knighter, my Heart son. With his classic head, strong underjaw, faultless front, and terrier muscle, he's a handsome package with a solid gold pedigree.
Lots more info about him and his sire and dam on his page in the Gene Bank. Just click on Knight of My Heart O'BJ in the drop-down menu.
If you are a breeder, a puppy from this litter can put you on sound genetic footing for the most important features of Toy Fox Terrier type; headpiece, ideal size, soundness and balance topped off with outstanding TFT personalities.
If you are a discriminating owner you know those vital "show" characteristics insure a healthy, highly intelligent, lovingly socialized Best Friend for life.
"Nest" snaphots of Header and her two girls born November 6th, 2020. First photos, puppies are 4 days old, 2 Spot and 1 Spot.
Call 828-286-9945 for pricing and availability.
Header's girls are 17 days old, cute as can be now that they can see what's going on.
| | |
| --- | --- |
| 1 Spot and 2 Spot | 1 Spot and 2 Spot |
5 week old girls, 1 Spot is first, then 2 Spot below
| | |
| --- | --- |
| 1 Spot girl | 1 Spot girl Reserved to Trost |
| | |
| --- | --- |
| 2 Spot girl | 2 Spot girl reserved to Blackburn |
https://www.toyfoxterriersobj.com/Puppies/Header/2011-Knighter-2F.asp
Go back to price and policy information or explore the menu bar.
Barbara Andrews may be reached at (828) 286-9945 (12 to 7 PM EST) in the Foothills of North Carolina or email BJ
Copyright © O'BJ 2002 Barbara J. Andrews. All rights reserved. Except for brief reference quotations with source provided, no portions thereof may be stored or reprinted in any form, electronic or otherwise, without prior express written consent of Barbara J. Andrews