TOY FOX TERRIER INFORMATION
A Toy Fox Terrier will be with you a lot longer than a new car, so get no-hype facts on breed health, personality, price, trainability and more.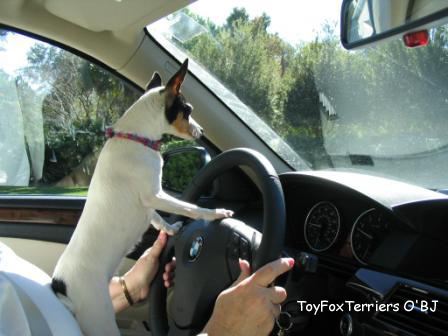 Buying a Toy Fox Terrier puppy isn't as easy as comparing performance on a new car. But c'mon, let's take a test drive.
NOTE: I have bred Ima to Noble, I hope you will explore this site and learn why I create these dogs before you call or email me.
From the comfort of your computer, Jazzie will steer you right as you comparison shop. Using the drop-down menu above, you can go straight to "puppies now" and fall in love but then you will have missed a lot of important stuff on this, the net's first website for Toy Fox Terrier information!
First stop is probably the most important so ask yourself right now...
Unless you've lived with a Toy Fox Terrier, you have no idea what the breed is capable of, the truth about housebreaking, how noisy they are, how much exercise they require, etc.
What do health certifications really mean to you? You need facts, not marketing strategy.
An American Original, circus performer, self-proclaimed varmint dog, a tree-climbing squirrel dog, child's companion and ladies' lap dog, the Toy Fox Terrier does it all!
Will the real Toy Fox Terrier please stand up? Accurate history is precisely what makes O'BJ dogs unique.
The two blueprints, side-by-side is interesting; the AKC Toy Fox Terrier club focuses on beauty but UKC put brains, endurance, and usability first. The TFT has both, which is why the breed is in huge demand by AKC folks. <grin>
Yes, Toy Fox Terriers Free Whelp, Love to Dress Up, and Garden... The Toy Fox Terrier is a natural clown!
Okay, I heard you ask about price and availability. Jazzie wants to show you the latest "makes and models" so let's go to My Toy Fox Terrier Puppies!
121115319042209 https://www.toyfoxterriersobj.com/Information/About-Toy-Fox-Terriers.asp
Reach Barbara Andrews at (828) 286-9945 (12 to 7 PM EST) or send an email to BJ, located in the Foothills of North Carolina. Click To Share This Page.
Copyright © O'BJ 2002 - All rights reserved. Except for brief reference quotations with source provided, no portions thereof may be stored or reprinted in any form, electronic or otherwise, without prior express written consent of Barbara J. Andrews