Sucha Girl O'BJ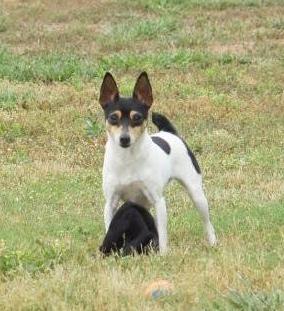 Meet Sucha! She is a small Toy Fox Terrier (6 lbs, 1 oz) but athletic like her 5 lbs, 7 oz mother AKC Champion Sally Jo (pictured right). Sally Jo was a lucky purchase through Rick Beauchamp, a good friend and legendary AKC judge. She was my demo-dog for Judges Education seminars (yeah, Sally Jo had faults...) but she was my heart-dog. Sally Jo passed on her sturdy little body and equally strong character to her daughter Sucha Girl. And those huge lusterous eyes and "look at me" attitude that made her mom "sucha" easy show ring winner.
Sucha has an exceptional mind even in a breed known for superior intelligence. As a little puppy I called her "Such a Brain" but friends said that sounded corny... so OK, I registered her as Sucha Girl O'BJ. She has a lovely headpiece with perfect ears set high on the head and her huge dark eyes sparkle with lively intelligence.
Sucha's sire is Barbary Johnny Cash O'BJ I was soooo fortunate to have been able to acquire Johnny from the undisputed top show breeder, Denise Monette in CA. Johnny gave me perfect size and terrier type in a tuck-in-your-arm package which we've intensified as Johnny is Noble's grandsire.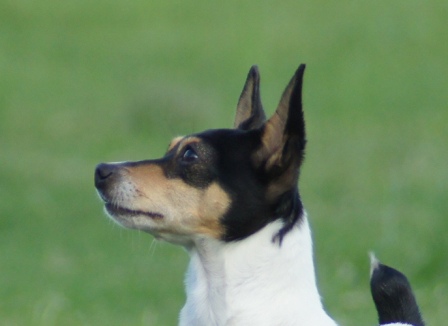 Sucha Girl brings together the strong legs and body of her sire and dam and for good measure, those big beautiful eyes that to me, are the hallmark of the Toy Fox Terrier breed!
Sucha was bred to Noble Heart O'BJ, my treasured Heart son and a grandson of legendary Ch. Hugely. Click Noble's name or use the Gene Bank drop-down menu to see him. Early deposits are advised.
Sucha's three puppies, sired by Noble were born March 29th, 2020. Click to see the availability of these Extraordinary puppies
Go back to price and policy information or explore the menu bar.
Barbara Andrews may be reached at (828) 286-9945 (12 to 7 PM EST) in the Foothills of North Carolina or email BJ
Copyright © O'BJ 2002 Barbara J. Andrews. All rights reserved. Except for brief reference quotations with source provided, no portions thereof may be stored or reprinted in any form, electronic or otherwise, without prior express written consent of Barbara J. Andrews