U-GENE O'BJ
by AKC Champion Hugely Handsome O'BJ out of Purple Heart O'BJ
He's the perfect size male Toy Fox Terrier, 7 pounds of athleticsm, super-sound and all terrier, he fits perfectly in my lap, my heart, and my TFT breeding program.
U-Gene O'BJ (so named because of his genetics!) has his sire's extraordinarily sound structure and balance and his dam's depth of devotion and uncanny perception. His sire Ch. Hugely Handsome O'BJ earned his AKC Champion title undefeated. He then set new AKC records for the most consecutive Breed and Group wins ever achieved by a Toy Fox Terrier.
And he did it all owner handled, from Best Of Breed wins as a yearling puppy to Best Of Breed and Award Of Merit at the Oklahoma City Toy Fox Terrier National Specialty shows over the largest entries in breed history. Fact is, Hugely became the Top Winning Toy Fox Terrier of All Time, defeated only 3 times in his whole career.
U-Gene's mother is Heart (right) - You can see why we named her Heart but she is also my heart-dog. She's pictured (beautifully pregnant with U-Gene) but that doesn't spoil her solid topline, perfect balance, and strong joints from shoulder to pasterns.
What you can't see is her intelligence, typical of the Toy Fox Terrier but when coupled with her flattering interest in whatever I'm doing, it makes her a standout.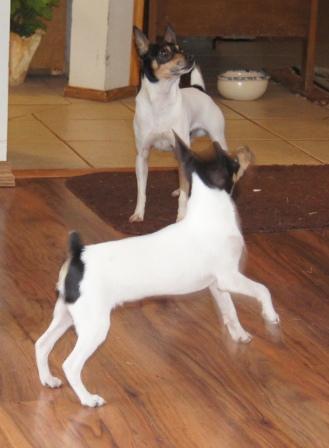 Heart is an immaculate house-dog and U-Gene learned from her as neither has ever made a potty mistake. Housebreaking? We don't remember doing that.
U-Gene is pictured here at 5 months old (left), dancing for dinner while his buddy Rolex watches the mixing bowl. Even at that awkward puppy stage (comparable to a 7-year old boy), U-Gene never put a foot down wrong. I kept him for his structure, soundness, personality, and impeccable pedigree.
He was my pick from the "U" litter, and with his powerful genetic package, naming him was a no-brainer! He has lived up to his tongue-in-cheek name, passing a powerful packet of desirable genes to his puppies.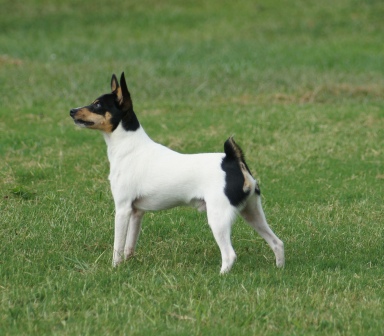 My enthusiasm was not shared by Hugely and Rolex but all three go out together. In fact it is touching to see how U-Gene tries to emulate his dad as Hugely just rolls his eyes (figuratively of course) and ignores the flattery.
U-Gene is a natural, always "stacks" (poses) himself. He's perfectly proportioned and has his sire's incredible side gait. I think about how easy he would be to show but nowadays, my fun is limited to producing puppies like U-Gene for others to win with.
U-Gene is pictured left and right at 10 months old. He has his father's short strong back, overall balance, and his mother's incredible mind. He passes those dominant characteristics on to his progeny.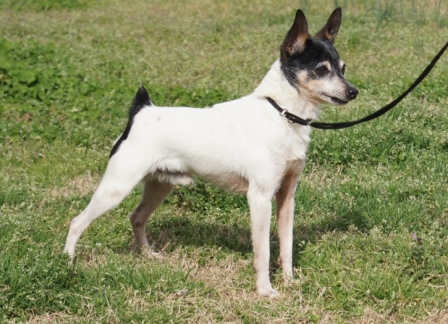 He's shown here at 3 years old (June 2018 photo) and like his sire, prematurely gray on his muzzle. But also like his sire, impeccibly correct in every feature of breed type, proportion (short-coupled and square) and soundness. Note his well-let-down (short) hocks and strong stifle and knees joints. Perfect shoulder angulation, strong but not heavy bone, and those huge expressive eyes that define the Toy Fox Terrier.
It's easy to see why he is such a dominant force in my small (8-dogs) breeding program.
1509 https://www.toyfoxterriersobj.com/GeneBank/U-Gene-OBJ.asp
Click here to get back to price and policy information
Barbara Andrews may be reached at (828) 286-9945 (12 to 7 PM EST) in the Foothills of North Carolina or email BJ
Copyright © O'BJ 2002 Barbara J. Andrews. All rights reserved. Except for brief reference quotations with source provided, no portions thereof may be stored or reprinted in any form, electronic or otherwise, without prior express written consent of Barbara J. Andrews